Adtran VPN Client 10 users 1200360L1#10
The
Adtran 10 User VPN Client
is designed specifically for the mobile work force. The NetVanta VPN Client is a software implemented IPSec VPN solution that allows users to establish a secure connection to the corporate environment by simply running software from their personal computer or laptop.
Adtran VPN Client 10 users 1200360L1#10 Product Overview
Provides 10 Software Licenses
VPN interoperability with all NetVanta VPN gateways
IPSec VPN tunneling with DES/3DES encryption
Internet Key Exchange (IKE) for key management
Full-featured firewall security
Supports Microsoft Operating Systems up through WindowsXP
Security Policy Editor
Logging and alerts
We're sorry, there are no downloads available at this time.
Manufacturer

Adtran

Model

1200360L1#10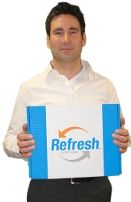 Michael Rehac
Direct: 716-213-6898
Blog
For advice, reviews and industry insight... be sure to follow us online.