AudioCodes MP112-FXS VoIP Gateway
The
Audiocodes MP112-FXS
MediaPack Series Analog VoIP Gateways are cost-effective, cutting-edge technology products. These stand-alone analog VoIP Gateways provide superior voice technology for connecting legacy telephones, fax machines and PBX systems with IP-based telephony networks, as well as for integration with new IP-based PBX architecture. These products are designed and tested to be fully interoperable with leading Softswitches, H.323 Gatekeepers and SIP servers.
AudioCodes MP112-FXS VoIP Gateway Overview
The Audiocodes MediaPack Gateways are well-suited for commercial VoIP deployment. Field-proven voice and fax technology and feature-rich design makes the
AudioCodes
MediaPacks an excellent solution for various emerging VoIP applications. The MediaPacks are used in VoIP-based PBX or IP-PBX architecture as a mediation gateway and remote analog extension. It is also used for optimizing voice transmission over satellite links, payphone networks, centralized IVR and Quality Monitoring applications. The MediaPacks are vastly deployed in the MTU (Multi Tenant Units) broadband access networks, IP Centrex and rural areas.
AudioCodes MP112-FXS Features and Functions
SIP Gateway with 2 FXS Ports
Single 10/100Base-T Ethernet
G.711, G.723.1, G.726, G.727, G.729AB Vocoders
Audiocodes Mediapacks do not include setup, installation, configuration, or post sales support. These options are available as add-ons.
Click here for an Audiocodes Mediapack Datasheet
Didn't find the VoIP Gateway you were looking for? Check out our complete selection of AudioCodes Gateways.
AudioCodes MP112-FXS Downloads
Manufacturer

AudioCodes

Model

MP-112-FXS

# of FXS Ports

2

# of FXO Ports

0

Connection Types

RJ-11

Amphenol Cable Included

No

# of Ethernet Ports

1

Protocols Supported

SIP, MGCP, H.323

Voice Codec Support

G.711 u/a law, G.723, G.726, G.729 a/b

Echo Cancellation

No

Fax Support

T.38

Provisioning Options

Auto Provisioning, BootP, Console CLI, HTTP, TFTP, Web GUI

Mounting Option

Rackmount

Power

Power Supply Included

Modular Slots

No

MWI Support

Yes

Peripheral Port

RS-232

PSTN Fallback / Failover

Yes

PSTN Signalling Support

FXS loop start

Interface

No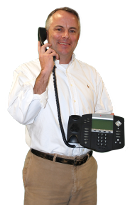 Joe Shanahan
Direct: 866-583-0920
Blog
Why Pay
$164.99

for the AudioCodes MP112-FXS?
SIP Gateway with 2 FXS Ports, 1 RJ45

G.711, G.723.1, G.726, G.727, G.729AB Vocoders
For advice, reviews and industry insight... be sure to follow us online.
Alternatives To This Product