AudioCodes MP-124D FXS VoIP Gateway
The
Audiocodes MP124 FXS
FXS Analog Media Gateway product family is based on AudioCodes' field-proven and best-of-breed VoIP technology.
AudioCodes MP-124D FXS VoIP Gateway Overview
Featuring 24 analog FXS ports, the Audiocodes MP124-FXS connects analog terminals, PBXs or key systems to the IP network using FXS connectivity. Use the Audiocodes MP124 to realize the cost savings benefits of using VoIP without having to replace our your current analog PBX or analog phones.
AudioCodes MP124 FXS Features and Functions
- SIP Gateway with 24 FXS Ports via 50pin Telco connector (not included)
- G.711, G.723.1, G.726, G.727, G.729AB Vocoders
- Single 10/100 Base-T, RJ-45 Network Interface
- Channel status and activity LED indicators
- SIP (RFC 3261), MGCP (RFC 2705), MEGACO* (H.248), H.323 (V4) compliant
- G.168-2000 compliant echo cancellation, VAD, CNG (Comfort Noise Generator)
- Dynamic programmable Jitter Buffer, modem detection and auto switch to PCM
- T.38 Compliant
- Group 3 fax relay up to 14.4 kbps with automatic fallback
- DTMF (TIA 464B)
- User defined and call progress tones
- Web management for easy configuration and installation
- BootP, DHCP and TFTP provisioning
- SNMP and syslog supprt
- EMS for all-embracing management operations (FCAPS)
Audiocodes Mediapacks do not include setup, installation, configuration, or post sales support. These options are available as add-ons.
<
Click here for an Audiocodes Mediapack Datasheet
Didn't find the VoIP Gateway you were looking for? Check out our complete selection of AudioCodes Gateways.
AudioCodes MP124 FXS Downloads
Manufacturer

AudioCodes

Model

GGWU00022

# of FXS Ports

24

# of FXO Ports

0

Connection Types

RJ-21 50 Pin Amphenol, **Amphenol Cable Required**

Amphenol Cable Included

No

# of Ethernet Ports

1

Protocols Supported

SIP, MGCP, H.323

Voice Codec Support

G.711 u/a law, G.723, G.726, G.729 a/b

Echo Cancellation

No

Fax Support

T.38

Provisioning Options

Auto Provisioning, BootP, Console CLI, HTTP, TFTP

Mounting Option

Rackmount

Power

Power Supply Included

Modular Slots

No

MWI Support

Yes

Peripheral Port

RS-232

PSTN Fallback / Failover

Yes

PSTN Signalling Support

FXS loop start

Interface

No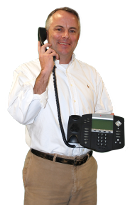 Joe Shanahan
Direct: 866-583-0920
Blog
Why Pay
$1,174.99

for the AudioCodes MP124 FXS?
SIP Gateway with 24 FXS Ports, 1 RJ45

G.711, G.723.1, G.726, G.727, G.729AB Vocoders
For advice, reviews and industry insight... be sure to follow us online.
Customer Reviews
Rajendra

Excellent
Hello,
WE must thank you for sending me correct product as per our requirement, particularly I am happy with the services your sales person Mr Darren for his prompt
reply to our queries.
Thanks,


(Submitted on ) | by

DrWatson

Could be better
I work for a company that has purchased 19 of these units for production. 25% of them seem to have power supply failures, specifically in with a transistor located by the heatsync on the power supply board. These transistors seem to fry if they get too hot. There are no fans in the unit to keep parts cool. We have had to stack them leaving an open U in rack to reduce heat build up. They always seem to break after 1year.

(Submitted on ) | by
Alternatives To This Product