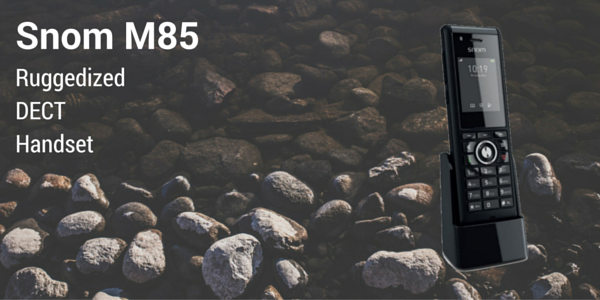 Introducing the Snom M85 Ruggedized DECT (wireless) VoIP Handset.
I suppose it's fitting that when you do a Google search for "M85" you'll find, as the number one search result, Wikipedia's description of the well-known "heavy machine gun…that was used primarily for turreted applications in armored fighting vehicles."
When you want something done, you bring out the big guns.
So it is with the Snom M85.
Just like its unrelated namesake, the M85 is comfortable in tough environments like hard hat zones, the outdoors, and industrial areas. It's able to withstand the abuse with protective features such as:
IP65 rated protective enclosure that is:

Shockproof
Splash-proof
Dust-proof
Operational in temperatures ranging from 5°F to 131°F (-15° and +55° Celsius)
Durability + Convenience
If you …