Cisco SPA301 1 line IP Phone
Small offices and home offices (SOHO) have more responsibilities than manpower. Cisco phones like the 1-line Cisco SPA301 IP phone lets you worry more about the business at hand and less about your phone system.
The Cisco SPA301 IP phone is not only affordably perfect for small budgets but it's a fully featured basic internet phone. Full featured and basic - Isn't that a contradiction?
It's the simplicity of the SPA301 that provides its fundamental operation. But in its adaptability to the growing host of features and functions offered by service providers you'll find an intuitive and satisfying user experience that's never lacking.
Affordability – The Cisco SPA301 respects your wallet. Adaptability – Cisco IP phones are designed to stay on the cutting edge. Connectivity – Flexibility to either connect the SPA301 directly to an internet phone service provider or a larger hosted system. Simplicity – Powerful features at your command that naturally work with you.
Ideal for any small office, Cisco SPA301 IP phones are affordable today and future proof for tomorrow.
Cisco SPA301 Product Overview
For small businesses that need affordable, reliable, and easy-to-use Cisco phones, the Cisco SPA301 1-Line IP Phone can be used with either Session Initiation Protocol (SIP) or Smart Phone Control Protocol (SPCP) and is supported with the Cisco Unified Communications 500 Series, Cisco SPA 9000 Voice System, and hosted IP telephony systems. The SPA301 is easy to install and supports highly secure remote provisioning as well as web-based configuration. It addresses the requirements of the traditional business user while building on the advantages of IP telephony. Cisco Small Business Pro Service is available.
Basic 1-line business-class IP phone
Connects directly to an Internet telephone service provider or to an IP private branch exchange (PBX)
Easy installation and secure remote provisioning, as well as web-based configuration
Supports both Session Initiation Protocol (SIP) and Smart Phone Control Protocol (SPCP) with the Cisco® Unified Communications 500 Series
Cisco SPA301 Features:
One service provider line
Two call appearances accessed via flash key or hook flash
Shared line appearance **
Line status indicator
Call hold
Music on hold **
Call waiting
Outbound caller ID blocking
Call transfer: attended and blind
Three-way conferencing with local mixing
Multiparty call conferencing via external conference bridge **
Call pickup: selective and group **
Call back on busy
Call blocking: anonymous and selective
Call forwarding: unconditional, no answer, and on busy
Call return: redial last caller
Hot line and warm line automatic calling
Call logs (60 entries each): made, answered, and missed calls; accessed via HTTP server
Redial last called number
Do not disturb (callers hear line busy tone)
Block anonymous incoming calls
Support for Uniform Resource Identifier (URI) (IP) dialing (vanity numbers)
Built-in web server for administration and configuration, with user and administrator access levels
Built-in interactive voice response system to check status and change configuration
Date and time with intelligent daylight savings support
Call start time stored in call logs
10 user-downloadable ring tones
Speed dial (eight entries)
Group paging (outbound only) **
Intercom (outbound only) **
Set preferred codec, per call, all calls
Configurable dial/numbering plan support
Ringer and handset volume controls
Handset input gain adjustment
DNS SRV and multiple A records for proxy lookup and proxy redundancy
Syslog, debug, report generation, and event logging
Support for highly secure encrypted voice communications
Network Address Translation (NAT) Traversal
Automated provisioning, multiple methods, with up to 256-bit encryption: HTTP, HTTPS, Trivial File Transfer Protocol (TFTP)
Option to require administrator password to reset unit to factory defaults ** Feature requires support by call server

Click here for a Cisco SPA301G1 Datasheet
Didn't find the Cisco phone you were looking for?
Check out these other VoIP phones by Cisco:
Manufacturer

Cisco

Model

SPA301

# of Lines

1

High Definition

No

Backlit Display

No

Color Display

No

Touchscreen Display

No

Protocols Supported

SIP

# of Ethernet Ports

1

Gigabit

No

Power

Power Supply Included

Headset Interface

RJ9

EHS Support

No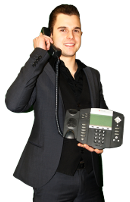 Brian Hyrek
Direct: 866-583-0815
Blog
For advice, reviews and industry insight... be sure to follow us online.
Alternatives To This Product