ClearOne ChatAttach Expansion Kit 910-156-225
The
ClearOne ChatAttach Expansion Kit
includes the cable assembly and power supply to add additional ChatAttach Pods to your existing ClearOne ChatAttach products.
ClearOne ChatAttach Expansion Kit Product Overview
The ClearOne ChatAttach Expansion Kit includes an additional Power Supply, Cables, and Quick Start guide to attach 2 additional Chat devices to ChatAttach.
MUST PURCHASE THE CHATATTACH PODS SEPARATELY, THIS IS ONLY THE CONNECTION KIT
We're sorry, there are no downloads available at this time.
Manufacturer

ClearOne

Model

ChatAttach Expa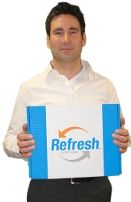 Michael Rehac
Direct: 716-213-6898
Blog
Why Pay
$79.99

for the ClearOne ChatAttach Expansion Kit?
Allows you to daisy chain ChatAttach pods
For advice, reviews and industry insight... be sure to follow us online.