Digium Power Adapter for Digium IP Phones
The Digium 1TELD005LF is a 5v power supply which is an optional accessory for Digium IP Phones. All Digium IP Phones are PoE, but if you don't have a PoE switch, you will need the 1TELD005LF to power your Digium phone.
We're sorry, there are no downloads available at this time.
Manufacturer

Digium

Model

1TELD005LF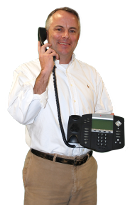 Joe Shanahan
Direct: 866-583-0920
Blog
For advice, reviews and industry insight... be sure to follow us online.