Wireless IP Cameras
Wireless IP Cameras for All Users
Wireless IP Cameras from VoIP Supply offer a flexible, quick and cost-efficient way to deploy IP cameras particularly over a large area such as a parking lot, college campus, or a city center where pulling cables through the ground is undesirable or Ethernet cables are beyond reach.
In older, protected buildings subject to historic preservations, wireless technology may be the only alternative if standard Ethernet cables may not be installed. And with their ease of setup, Wireless IP Cameras from VoIP Supply are ideal for monitoring special events or any security need on short notice.
All of the Wireless IP Cameras you will find below are feature-rich and offer un-compromised functionality, flexibility, cost savings as well as advanced features that will substantially improve your surveillance system. And every Wireless IP Camera we supply is fully warranted and supported by our team of in-house experts.
Need assistance selecting the right Wireless IP Camera? Give one of our experts a call at 866.885.4853.
Buying Advice
Customer Benefits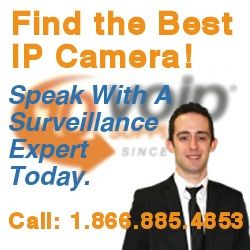 An indoor, day and night, wireless, Megapixel IP camera with 2-way audio

An outdoor day and night wireless IP camera

A black indoor, day and night, wireless IP camera with pan/tilt capability and 2-way audio

The SNC-RH164 is a 360 degree, Network HD Rapid Dome Outdoor Camera with 10x Optical Zoom



The SNC-RX550N incorporates the latest image processing technology to provide multiple compression formats. Together with the variety of key features for surveillance and remote monitoring, such as Day/Night function, to provide clear images even in low light conditions, Intelligent Motion Detection and Intelligent Object Detection, the SNC-RX550N cameras can take your surveillance and remote monitoring applications to the next level.

A white indoor, day and night, wireless IP camera with pan/tilt capability and 2-way audio

A 1 Megapixel indoor wirless Camera for n/b/g networks with day and night vision up to 50 meters

The Cloud Camera 1100 Network Camera is a wireless indoor, day and night entry-level IP camera for home surveillance perfect for home monitoring of kids and pets. View the footage on your iPhone, iPod, or iPad!