PCI Cards for Telephony Platforms
Buy the RIGHT PCI Card for your telephony system at VoIP Supply.
Choose from over 1,000 different PCI Cards in a variety of configurations. Whether you are looking to connect your legacy telephones and fax machines to your Open Source Phone System or need to connect your Open Source Phone System to the PSTN, VoIP Supply has the solution you are looking for.
All of our PCI Cards carry a standard manufacturers warranty, are supported by our in-house team of VoIP experts and are compliant with most standard protocols and codecs.
Shop by Brand
Customer Benefits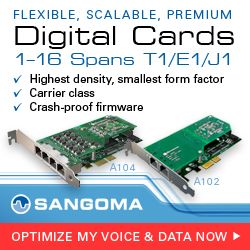 The Rhino R4FXO-EC is a PCI telephony card offering 4 FXO ports and onboard echo cancellation.

Rhino Telephony Cards allow you to utilize analog devices (when using FXS ports) or analog PSTN or "POTS" phone lines (when using FXO Ports) in conjunction with your leading-edge Asterisk technology. Simply snap the Rhino PCIe Card into an open PCIe slot in your server or PBX for added port density and functionality.

The A4 Series Digium 1A4A02F 4 Port 0-FXS/4-FXO PCI Card for 3.3/5.0V


The A4 Series Digium 1A4A05F 4 Port 4-FXS/0-FXO PCI Card for 3.3/5.0V


The A8 Series Digium 1A8B00F 8 Port 0-FXS/0-FXO PCI-e Card


The Sangoma A20101 KIT is a PCI telephony card with 2 FXS Ports and 2 FXO Ports.

The Rhino R1T1 is a digital PCI telephony card offering 1 T1/E1/PRI connection.

The Rhino Equipment R8FXX-EC-01 is a PCI telephony card with 0 FXS Ports, 2 FXO Ports, and onboard echo cancellation.

Managing your open source telecommunication needs has never been easier than with Rhino products. Rhino PCI plug-in cards satisfy the needs of Open Source Telephony (OST) applications, no matter how stringent the requirement. Rhino Open Source Telephony PCI cards feature Asterisk, Zapata and Linux tested software. Knowing that Rhino products are ready to perform right out of the box means that you can spend more time developing important customer relationships.

* PCI Form Factor
* Full Length Analog Base Board WITH ECHO CANCELLATION, No FXS/FXO Modules Installed
* Compatible with Rhino MOD-2FXS, MOD-2FXO
The Sangoma A101D is a single port T1/E1/J1 PCI card with onboard Hardware Echo Cancellation that has been designed for optimum voice support for smaller systems

The Sangoma B601D is a hybrid PCI Telephony card with 1 T1/E1, 4 FXO, and 1 FXS port and onboard echo cancellation.

The Sangoma B600D is a 4 Port FXO and 1 Port FXS PCI card with onborad Hardware Echo Cancellation. The B600D has been built with Sangoma's premium audio and engineering quality but has been specifically designed for smaller-budget installations.
The Digium 1TE407PF is a quad span digital T1/E1/J1/PRI PCI 5.0V card with onboard echo cancellation.