Jabra Aastra EHS 14201-10
Jabra Electronic Hook Switch (EHS) is a series of adapters or electronic solutions that enable remote operation of compatible Jabra wireless headsets with various phones, thus eliminating the need for a mechanical handset lifter. As mobility within the working environment continues to increase, it is vital that employees have business tools that enable them to work efficiently regardless of location. With an EHS solution they can be where they want and still do business on the spot! Jabra wireless headsets with EHS functionality boost productivity as they provide the user with the ability to remotely answer and end a call.
Jabra LINK 14201-10 enables remote Electronic Hook Switch Control (EHS) with Jabra wireless headset and a wide range of phone models from Aastra, Agfeo, Auerswald, Funkwerk, Innovaphone, Siemens, Snom, Swyk, Deutsche Telecom, Tiptel and Ipitomy (see Jabra compatibility overview or consult your Jabra sales contact for the right solution). Once installed, employees can control their call directly from their Jabra wireless headset up to 450 ft away from their desk.
Jabra Aastra EHS 14201-10 Product Overview
The
Jabra 14201-10
Electronic Hook Switch adapter is compatible with Aastra and Siemens phones.
The EHS Adapter allows the user to:
Hear ring tones
Answer and end calls while away from their desk
Adjust the volume
Mute the call
We're sorry, there are no downloads available at this time.
Manufacturer

Jabra

Model

14201-10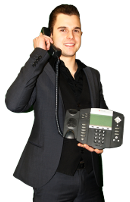 Brian Hyrek
Direct: 866-583-0815
Blog
For advice, reviews and industry insight... be sure to follow us online.