Konftel 900102074 Expansion Microphones for 60W
With the 900102074 Expansion Microphones, the range increases up to 70 m2, i.e. more than double the area when the expansion microphones are connected.
Konftel 900102074 Product Overview
Includes connection cables in two lengths, 1.5 and 2.5 meters.
We're sorry, there are no downloads available at this time.
Manufacturer

Konftel

Model

KFKT60MC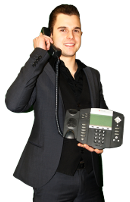 Brian Hyrek
Direct: 866-583-0815
Blog
Why Pay
$135.00

for the Konftel 900102074?
Expand the range of the 60W up to 750 sq feet

Connects via cables to main wireless unit to ensure voice quality

Ships with 2 cord lengths for your flexibility: 4ft and 8 ft
For advice, reviews and industry insight... be sure to follow us online.