Aastra 6865i 9 Line VoIP Phone
The Aastra 6865i is a 9 line HD voice VoIP phone in the Aastra 6800 series of powerful and modern phones. With support for up to 3 expansion modules, Dual Gigabit Ethernet ports, and 8 programmable keys the 6865i has been designed for the small to large business market.
Aastra 6865i 9 Line VoIP Phone Overview
The Aastra 6865i features Aastra's Hi-Q audio technology for enhanced voice clarity on an HD handset. Advanced audio processing and hardware components support a true wideband frequency range so that regardless of the means you take your call--whether handset, speakerphone, or headset--your conversation will be crystal clear and life-like.
The 6865i supports DHSG/EHS and modular 4-pin headset connections to eliminate the need for additional adaptors or cables.
Dual Gigabit Ethernet ports suit the 6865i to small and large businesses alike who need that Gigabit throughput for PC connectivity.
Productivity is enhanced with an extensive storage capacity for directories, caller logs, redial lists, programmable keys, SCA, BLF, 3-way conferencing, transfer, call waiting, park, pick-up, intercom and paging. The Aastra 6865i VoIP Phone can support up to 3 expansion modules for your organization's needs.
Aastra 6865i 9 Line VoIP Phone Features and Functions:
9 Line appearances
Support for G.722 HD Voice
3.4" monochrome display
DHSG/EHS headset
Support for up to 3 expansion modules
Dual Gigabit RJ45 Ports
Power over Ethernet
Optional Power Supply not included
Didn't find the VoIP phone you were looking for?
Check out these other Aastra phones:
We're sorry, there are no downloads available at this time.
Manufacturer

Aastra

Model

6865i

# of Lines

9

High Definition

Yes

Backlit Display

Yes

Color Display

No

Touchscreen Display

No

Protocols Supported

SIP

# of Ethernet Ports

2

Gigabit

Yes

Power

PoE (IEEE 802.3af), Power Supply Available Separately

Headset Interface

Dedicated EHS, 4-Pin

EHS Support

Yes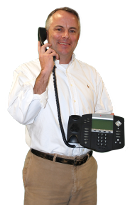 Joe Shanahan
Direct: 866-583-0920
Blog
Why Pay
$152.99

for the Aastra 6865i?
Remarkable Audio

Enhanced Call Management

Flexible Headset Options
For advice, reviews and industry insight... be sure to follow us online.
Alternatives To This Product
Your Price:

$139.00




Add To Cart For A Better Price!
Your Price:

$265.00




Add To Cart For A Better Price!