Cisco SPA504G 4 Line VoIP Phone with PoE
The Cisco SPA504g is a 4 line VoIP phone which features a large backlit LCD, 2 switched 10/100 ports, and Cisco HD Voice. Supporting either SIP or SPCP, the Cisco SPA504G is the perfect IP phone for hosted VoIP or premise based IP PBX systems.
Cisco SPA504G Overview:
The Cisco SPA504G supports LDAPv3 Corporate Directory Search, Cisco XML-based Corporate Directory and features a customizable logo and screensaver. SIP 3rd party call control for server based applications and Cisco XML API support for advanced applications is also available. The Cisco SPA504G supports for the standard SIP2.0 protocol, as well as Cisco's proprietary SPCP (Smart Phone Control Protocol), a derivative of Cisco's SCCP (Skinny) call control protocol which is used on the Cisco UC500 platform. The Cisco SPA504G is part of the Cisco Small Business Pro product family of
Cisco phones
.
Cisco SPA504G Features & Functions:
4-Line Phone
Dual switched ethernet ports
IEEE 802.3af PoE (Power Over Ethernet)
Supports SIP or SPCP protocol
G.729 and G.722 Wideband Audio Support
Menu driven user interface
Web based GUI, remote provisioning
IP dialing support
Hi Res LCD Display
2.5mm stereo headset connector
AUX port (SPA932 or SPA500S attendant console is supported)
High quality audio handset
Full duplex hands free speakerphone
Hearing aid compatability (HAC)
Support calls between TTY's
Works well with GN Netcom, Jabra and Plantronics wired headsets
Optional PA100 Power Adapter and MB100 Wall Mount Adapter
Much more....
Didn't find the Cisco phone you were looking for?
Check out these other
VoIP phones
by Cisco:
Manufacturer

Cisco

Model

SPA504G

# of Lines

4

High Definition

Yes

Backlit Display

Yes

Color Display

No

Touchscreen Display

No

Protocols Supported

SIP, SPCP

# of Ethernet Ports

2

Gigabit

No

Power

PoE (IEEE 802.3af), Power Supply Available Separately

Headset Interface

2.5mm

EHS Support

No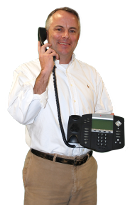 Joe Shanahan
Direct: 866-583-0920
Blog
Why Pay
$139.99

for the Cisco SPA504G?
4 Line Phone with Hi-Res Backlit LCD Display

SIP and SPCP (Cisco C500) Protocol Support, G.722 Wide Band Audio

Dual Ethernet, 802.3af PoE
For advice, reviews and industry insight... be sure to follow us online.
Questions on Cisco SPA504G
Customer Reviews
Detailed Computing

Great Phone
I've installed over 100 of these phones. I purchased them all here from VOIP supply. Out all these that I deployed I haven't had to replace one. They have been running for over a year now. I've had zero sound issues. I agree with the last reviewer abbreviations are very common on phones these days. If you want a feature rich solid phone with the Cisco name that is easy to deploy then look no further.

(Submitted on ) | by

jjoshlin

real world use
I sell these day in and day out, with 3cx. They are rock solid, easy to configure, and take a beating. if you can't understand xfer = Transfer, bxfer = Blind Transfer (no one needs to answer), and dnd = do no disturd, then you probally should not be looking at a VoIP system. Go find a Nortel or Avaya and use that instead.

(Submitted on ) | by

Paul

Incredibly hard to use
Quality of the sound in receiver is awfull - always gives a feedback of my voice, so it sounds like I am talking to myself.
All its functions are hard to understand due to abbreviations. Even the simple call forward is like a mission impossible... You would not be able to figure it out by yourself without a manual...


(Submitted on ) | by
Alternatives To This Product