Cisco CP-PWR-CUBE-3 Kit Power Brick and AC Cable
Our Cisco CP-PWR-CUBE -VSRF is a professionally reconditioned Cisco CP-PWR-CUBE IP Phone AC Power Supply that has been inspected and lab tested to prove operational. The Cisco CP-PWR-CUBE is the power brick and AC power cord for North America designed CP-79XX series phones.
VoIP Supply Reconditioned products include a FREE 6-Month VoIP Supply warranty with replacement or store credit if the product is defective or DOA. (All VSRF products are non-refundable, store credit only.)
We're sorry, there are no downloads available at this time.
Manufacturer

Refresh

Model

Cisco CP-PWR-CUBE Kit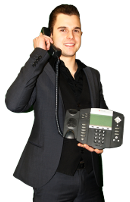 Brian Hyrek
Direct: 866-583-0815
Blog
For advice, reviews and industry insight... be sure to follow us online.