About FREETALK
FREETALK applies aspirational technology to deliver cutting edge products at everyman prices. The organization develops, markets and distributes hardware through a vertically integrated structure which includes partnership with progressive manufacturers, global logistics infrastructure and localized end user marketing and support. In Store Solutions ships more than 500,000 products annually to 181 countries - to end users through their network of online stores and to blue chip retailers around the world.
Why buy FreeTalk?
HD video calls, TV to TV and TV to PC, universally accessible for millions of homes worldwide with a Skype enabled FREETALK True HD camera.
The 2nd generation of the world´s best selling wireless headset, the FREETALK® Wireless and a running headset for the FREETALK® Freedom Series
The Everyman Headset and Everyman HQ Webcam, in association with Skype, bring the best quality Skype experience to a mainstream audience
Helpful FreeTalk Links
Shop by Product Type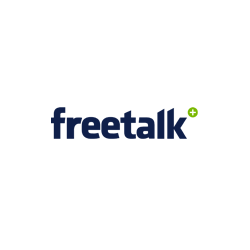 The FREETALK Every man HD is a high definition camera designed for video calling

The FREETALK Protector is a protective travel case designed specifally for FREETALK Skype headsets and cameras. The FREETALK Protector make it easy to safely bring your FREETALK headset or camera with you without the worry of it being damaged.

The FREETALK Mono is a light weight single ear USB Skype headset that has been designed for comfortable all day use. The FREETALK Mono can be collapsed making it as good a match for road warriors as desk bound workers.

The FREETALK Handsfree Ear Buds is a corded stereo Skype certified headset. The Handsfree ear Buds have 3.5mm jack plug for use with cell phones and includes a Y splitter cable for use with PC sound ports.

The FREETALK Connect is a full featured Skype certified IP PBX . The TALK-1000 allows you to make business calls over Skype helping you save money without sacrificing any of the features.