Sangoma Vega 5000 50 FXS + 2 FXO Gateway
The Sangoma Vega 5000 analog gateway is a 50 FXS ports (for connection to standard analog telephones) & 2 FXO ports (for connection to PSTN telephone lines or a PBX) gateway for using VoIP with standard analog equipment.
Sangoma Vega 5000 Overview
The Vega 5000 analog telephony gateway is designed to simplify the integration of legacy phone systems to IP infrastructure. The Vega 5000 connects analog handsets & devices to an IP network, typically either an internet telephony service provider (ITSP) or a corporate network, while providing two additional network-facing analog ports for connection to telephone lines or an analog PBX.
The Vega 5000 is useful on-premise where SIP trunking is being used to bridge a legacy PBX system. It is also useful to support FXS endpoints in an IP Centrex environment. It can also be used as an enterprise-class VoIP networking device or IP telephony gateway.
The Vega 5000 series gateways support SIP, H.323, and T.38 fax. It can be configured for different countries including tones and line impedance. All Vega gateways have proven interoperability with a wide range of existing telecommunications & VoIP equipment.
When powered the Vega can route calls to or from the two FXO ports. Under power failure conditions the two FXO ports provide a hard-wired bypass to two FXS ports allowing PSTN calls to be made even under this failure condition.
Sangoma Vega 5000 Features:
Interfaces
VoIP
SIP
H.323 version 4
Audio codecs:

G.711 (a-law/µ-law)
G.729a
G.723.1 (5.3/6.4 kbps)
Clearmode
GSM (Optional)

FAX Support – up to G3 FAX, using T.38
Modem Support – up to V.90, using G.711
50 VoIP channels
Telephony Interfaces
25 ports per RJ-21 connector
2

FXO

ports on RJ-45 connectors
600R, 900R or CTR-21 line impedance
LAN Interfaces
2 RJ-45s, 10 BaseT/100 BaseTX, full/half duplex
Features
Telephony Features
Available on FXS ports:
Call Waiting
Call Forward – Unconditional, Busy, No-Answer
Call Transfer – Blind, Consultative
3-Way Conference
Do Not Disturb
Message Waiting Indicator – Audible, Visual
Music on Hold
Executive Barge
Identification
Caller ID presentation – UK,

DTMF

, Bellcore GR30, ETSI
Caller ID screening allows connections to be accepted only from selected call sources
H.323 gatekeeper registration
SIP Registration & Digest Authentication
Operation, Maintenance & Billing
HTTP(S) web server
RADIUS Accounting & Login
Remote

firmware

upgrade:

Auto code upgrade
Auto configuration upgrade

SNMP V1, V2 & V3
Syslog
TFTP/FTP support
VT100 –

RS232

/Telnet/SSH
Voice readback of IP parameters
Routing & Numbering
Dial Planner – sophisticated call routing capabilities, standalone or gatekeeper/proxy integration
Direct Dialing In (DDI)
SIP registration to multiple proxies
Call Quality
Adaptive jitter removal
Comfort noise generation
Silence suppression
802.1p/Q VLAN tagging
Differentiated Services (DiffServ)
Type of Service (ToS)
QoS statistics reporting
Echo cancellation (G.168 up to 128ms)
Security & Encryption
Media – SRTP (Optional)
SIP – TLS (Optional)
Management – HTTPS, SSH Telnet
Configurable user login passwords
Enhanced Network Proxy (ENP) (Optional)
Hardware
Certification
EMC (Class A)
EN55022
EN55024
FCC Part 15
AS/NZS3548
VCCI
Safety
EMC (Class A)
EN60950
IEC60950
UL60950
AS/NZS60950
Telecoms
Protection
FXS port surge protection – K.20, K.21, GR1089
Environmental
0°..40°C
0%..90% humidity (non–condensing)
FXS Line Length
Indicators
LED:
Power
System ready
Lifeline,

FXS

calls active
LAN: speed/activity
Physical Dimensions
437mm (17.2") x 43mm (1.7") x 275mm (10.8") width/height/depth
Weight: 6.5kgs
Rackmount: brackets supplied 483mm (19") 1U
Additional Accessories
1 x RJ21 to punch down Connector
1 x RJ21 to RJ45 cable (1.5m)
Power
100..240 VAC, 47..63 Hz, 1..0.5 A for 24 ports or 100..240 VAC, 47..63 Hz, 2..1 A for 48 ports
48V DC (subject to MOQ) (Optional)
Program Storage
Code & configuration data are stored in FLASH & executed from RAM
Didn't find the VoIP Gateway you were looking for?
Check out these other Sangoma Vega FXS Gateways:
We're sorry, there are no downloads available at this time.
Manufacturer

Sangoma

Model

VS0151

# of FXS Ports

16

# of FXO Ports

2

Connection Types

RJ-21 50 Pin Amphenol, **Amphenol Cable Required**

Amphenol Cable Included

No

# of Ethernet Ports

2

Protocols Supported

SIP, H.323

Voice Codec Support

G.711 u/a law, G.723, G.729 a/b

Echo Cancellation

Yes

Fax Support

T.38

Provisioning Options

FTP, HTTP, HTTPS, SNMP, Telnet SSH, TFTP

Mounting Option

Rackmount

Power

Power Supply Included

Modular Slots

No

MWI Support

Yes

Peripheral Port

RJ-11 PSTN by-pass

PSTN Fallback / Failover

Yes

PSTN Signalling Support

No

Interface

No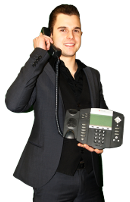 Brian Hyrek
Direct: 866-583-0815
Blog
Why Pay
$2,627.30

for the Sangoma Vega 5000 50 FXS + 2 FXO Gateway?
Flexible call routing for fallback and least cost routing

Voice, fax, and modem support

Interoperability with a wide range of legacy and IP equipment
For advice, reviews and industry insight... be sure to follow us online.
Customer Reviews
sblurton

Great for Hotels that need analog Neon MW Lights
The Vega 5000 supports NEON message waiting for Telematrix, Teledex and even Centrex FSK message waiting indicators. Sangoma has an excellant reputation for tech support. This Unit is very easy to setup with a quick config wizard.

(Submitted on ) | by