About Siemens Gigaset
Gigaset Communications is one of the world's largest manufacturers of cordless phones and the clear market leader in Europe for DECT phones.
With its headquarters in Munich, the company develops, manufactures and distributes high-quality products under the brand Siemens Gigaset. Its portfolio includes fixed-network phones, Voice over IP phones, software solutions and home media products.
From making phone calls to establishing a complete wireless network. Here you can find all the hardware components and software solutions you may need to fulfill your communication needs.
The level of customer service that Gigaset Corporation offers is extremely important to them. Not only do they provide you with high-class products but they also offer extensive service and useful information.
Why buy Siemens Gigaset?
Gigaset Communications offers:

Internet NextG phones - with Gigaset.net, unique online community, users are able to make free worldwide calls with their Gigaset IP handset to all other Gigaset IP phones.
HDSP™ offers exceptional sound quality.
Info services & applications - stay informed on your handset with info services.
ECO DECT phones - uses up to 60% less energy, and more!
Helpful Gigaset Links
Shop by Product Type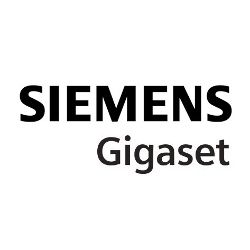 There are no products matching the selection.