Cisco WS-C3560-48PS-S (VSRF)
This Refreshed Product has undergone an extensive 10 Step Process in which it was inspected, tested, fully cleaned, upgraded to the latest firmware and repacked for sale.
Refresh products ship with all the applicable original components including phone, handset cord, base stand, RJ45 cable and manuals.
Cisco WS-C3560-48PS-S 48-Port 10/100 Switch REFRESH
The Cisco Catalyst WS-C3560-48PS-S switch is a 48 port PoE switch with 4 SFP-based Gigabit Ethernet ports. This model offers advanced QoS, rate limiting, ACLs, and basic static and Routing Information Protocol (RIP) routing functions.
Cisco WS-C3560-48PS-S Overview
The Cisco Catalyst 3560 switch is a fixed configuration, enterprise-class, IEEE 802.3af and Cisco prestandard Power over Ethernet PoE switch in Fast Ethernet configuration that provides availability, security, and quality of service to enhance network operations.
The Catalyst 3560 series of Cisco switches are an ideal access layer switchs for small enterprise wiring closets or branch office environments that are using their LAN infrastructure for the deployment of products and applications such as IP telephones, wireless access points, video surveillance, building management systems, and remote video kiosks.
Customers can deploy network-wide intelligent services, such as advanced QoS, rate limiting, access control lists, multicast management, and high-performance IP routing - while maintaining the simplicity of traditional LAN switching.
Embedded in the Catalyst 3560 is the Cisco Cluster Management Suite Software, which allows users to simultaneously configure and troubleshoot multiple Cisco Catalyst desktop switches using a standard Web browser. Cisco CMS Software provides configuration wizards that greatly simplify the implementation of converged networks and intelligent network services.
Cisco WS-C3560-48PS-S 48-Port PoE 10/100 Switch Product Overview
The Catalyst 3560 can provide a lower total cost of ownership for deployments that incorporate IP phones and Aironet wireless LAN access points, as well as any IEEE 802.3af-compliant end device.
Power over Ethernet removes the need for wall power to each PoE-enabled device and eliminates the cost for additional electrical cabling that would otherwise be necessary in IP phone and wireless LAN deployments. Maximum power availability for a converged voice and data network is attainable when a Catalyst 3560 Switch is combined with the Cisco Redundant Power System 675 RPS 675 for seamless protection against internal power supply failures and an uninterruptible power supply UPS system to safeguard against power outages.
The Cisco Catalyst 3560 comes with the standard multilayer software image. The SMI feature set includes advanced QoS, rate limiting, access control lists, and basic static and Routing Information Protocol routing functionality.
Cisco WS-C3560-48PS-S Reconditioned 48-Port 10/100 Switch Features
48 Ethernet 10/100 ports and 2 SFP-based Gigabit Ethernet ports
1 rack-unit (RU) fixed configuration, multilayer switch
Enterprise-class intelligent services delivered to the network edge
IEEE 802.3af and Cisco prestandard Power over Ethernet
Standard Multilayer Software Image (SMI) installed
Basic RIP and static routing, upgradable to full dynamic IP routing
What's Included
---
PLUS6 Warranty
Refreshed Products come with a standard 6 month warranty with an additional 6 months of coverage available through the PLUS6 WARRANTY.
All Refresh Products purchases are non-refundable. Replacement or store credit will be given if product is deemed defective inside of 6 months.
---
Why Buy Refresh?
✚ Value - Refresh products represent an exceptional value as they can be purchased for 20 to 25 percent less than their new equivalent retail price. ✚ Reliability- You can be assured that each product has been fully tested and ready to perform just like it was when originally purchased. ✚ Performance - All Refresh products go through an extensive reconditioning process which includes feature/functionality testing, component replacement (if necessary) and software upgrades. ✚ Warranty - Every Refresh product comes with a standard six month warranty that covers mechanical failures and defects. In addition VoIP Supply also offers an additional six months of protection through the Plus 6 warranty.
We're sorry, there are no downloads available at this time.
Manufacturer

Refresh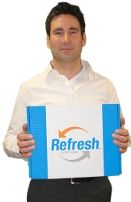 Why Pay
$2,199.99

for the Cisco WS-C3560-48PS-S (VSRF)?
Cisco Express Setup simplifies initial configuration with a Web browser, eliminating the need for more complex terminal emulation programs and CLI knowledge.

IEEE 802.3af and Cisco prestandard PoE support comes with automatic discovery to detect a Cisco prestandard or IEEE 802.3af endpoint and provide the necessary power without any user configuration.

Cisco Express Forwarding hardware routing architecture delivers extremely high-performance IP routing.
For advice, reviews and industry insight... be sure to follow us online.