Plantronics APP-51 EHS Cable
The Plantronics APP-51 is an electronic hookswitch (EHS) cable for Polycom phones. The APP-51 is designed for use with Plantronics headsets in the Savi 700 series, Savi Office series and CS500 series.
The Plantronics APP-51 EHS cable allows you to take calls and end calls by the push of a button on your Plantronics headset even when you are not within arms range of the phone, eliminating the need for a HL10 Handset Lifter.
The Plantronics APP-51 is compatible with the following Polycom phone models:
Polycom IP 320/321*
Polycom IP 330/331*
Polycom IP 335
Polycom IP 430
Polycom IP 450
Polycom IP 550
Polycom IP 560
Polycom IP 650
Polycom IP 670
Polycom VVX 500
*Polycom IP 320/321 and IP 330/331 require 2.5mm to RJ-9 converter cable to connect to the headset port
We're sorry, there are no downloads available at this time.
Manufacturer

Plantronics

Model

APP-51

Connections

No

Length

No

Type

Proprietary Cable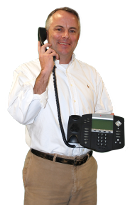 Joe Shanahan
Direct: 866-583-0920
Blog
For advice, reviews and industry insight... be sure to follow us online.