Polycom 2200-15855-001 Extension Mics
The Polycom 2200-15855-001 adds 2 extension microphones and a7 foot connection cable for them to your existing Soundstation Duo or CX3000 Conference Phone. This extension microphone kit includes 2 microphone pods and 7 ft connection cables.
We're sorry, there are no downloads available at this time.
Manufacturer

Polycom

Model

DUO/CX3000 MICS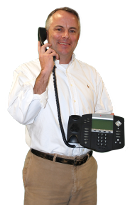 Joe Shanahan
Direct: 866-583-0920
Blog
Why Pay
$179.99

for the Polycom Extension Mics for CX3000 and Duo?
Extend the pickup of your Polycom CX3000 or Soundstation Duo conference phone
For advice, reviews and industry insight... be sure to follow us online.