Cisco CP-7962G (REFRESH)
This Refreshed Product has undergone an extensive 10 Step Process in which it was inspected, tested, fully cleaned, upgraded to the latest firmware and repacked for sale.
Refresh products ship with all the applicable original components including phone, handset cord, base stand, RJ45 cable and manuals.
Refreshed Cisco CP-7962G VoIP Phone
The Refreshed Cisco CP-7962G is a full-featured IP phone with speakerphone and handset designed for wideband audio. It is intended to meet the needs of managers and administrative assistants.
The Cisco CP-7962G has six programmable backlit line/feature buttons and four interactive soft keys that guide you through all call features and functions.
Refreshed Cisco CP-7962G VoIP Phone Product Overview
The CP-7962G has a large, 4-bit grayscale graphical LCD that provides features such as date and time, calling party name, calling party number, digits dialed, and presence information. The crisp graphic capability of the display allows for the inclusion of higher value, more visibly rich Extensible Markup Language (XML) applications, and support for localization requiring double-byte Unicode encoding for fonts.
A hands-free speakerphone and handset designed for hi-fidelity wideband audio are standard on the Cisco CP-7962G, as is a built-in headset connection and an integrated Ethernet switch.
Refreshed Cisco CP-7962G Features and Functions
Integrated Ethernet switch
Multiple VoIP protocol support
Power over Ethernet (PoE) support
Supported Protocols: SCCP, SIP for Cisco Call Manager
What's Included
---
PLUS6 Warranty
Refreshed Products come with a standard 6 month warranty with an additional 6 months of coverage available through the PLUS6 WARRANTY.
All Refresh Products purchases are non-refundable. Replacement or store credit will be given if product is deemed defective inside of 6 months.
---
Why Buy Refresh?
✚ Value - Refresh products represent an exceptional value as they can be purchased for 20 to 25 percent less than their new equivalent retail price. ✚ Reliability- You can be assured that each product has been fully tested and ready to perform just like it was when originally purchased. ✚ Performance - All Refresh products go through an extensive reconditioning process which includes feature/functionality testing, component replacement (if necessary) and software upgrades. ✚ Warranty - Every Refresh product comes with a standard six month warranty that covers mechanical failures and defects. In addition VoIP Supply also offers an additional six months of protection through the Plus 6 warranty.
We're sorry, there are no downloads available at this time.
Manufacturer

Refresh

Model

Cisco CP-7962G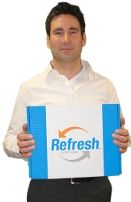 Michael Rehac
Direct: 716-213-6898
Blog
Why Pay
$249.99

for the Cisco CP-7962G (REFRESH)?
Can be provisioned for use with SCCP or SIP

320x222 pixel graphical LCD Display

Can expand up to 32 lines by adding two CP-7915 expansion modules (in SCCP mode only)
For advice, reviews and industry insight... be sure to follow us online.