Linksys / Grandstream 5V International Power Adapter
Includes clip adjustable power supply with plug modules for EU, UK, AUS and USA use.
Compatible with:
All Cisco SPA phones and SPA ATA's.
All Grandstream ATAs
We're sorry, there are no downloads available at this time.
Manufacturer

VoIPSupply.com

Model

RPA-PAK-ADAPTER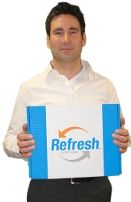 Michael Rehac
Direct: 716-213-6898
Blog
For advice, reviews and industry insight... be sure to follow us online.