Snom 320 (REFRESH)
This Refreshed Product has undergone an extensive 10 Step Process in which it was inspected, tested, fully cleaned, upgraded to the latest firmware and repacked for sale.
Refresh products ship with all the applicable original components including phone, handset cord, base stand, RJ45 cable and manuals.
Refreshed Snom 320 VoIP Phone
src="http://fast.wistia.com/embed/iframe/a4dx56kq38?version=v1&videoHeight=360&videoWidth=640&volumeControl=true&plugin%5Bsocialbar%5D%5Bbuttons%5D=email-twitter-googlePlus-facebook&plugin%5Bsocialbar%5D%5Bversion%5D=v1" allowtransparency="true" frameborder="0" scrolling="no" class="wistia_embed" name="wistia_embed" width="450" height="253">
The Refreshed
snom 320
features a 2 x 24 semi-graphic LCD display and menu-driven user interface support an uncomplicated feature management.  12 programmable keys with LEDs support quick access to important extensions.  Call list and address book can contain up to 100 entries each, and entries can be added and changed easily.
Refreshed Snom 320 VoIP Phone Product Overview
The Refreshed snom 320 offers superb voice quality when used with a headset, handset or in hands-free speakerphone mode. Snom industry-leading sound quality implemented in the Snom 320 enhances the productivity of your business phone calls, because you will spend less time trying to understand what other people are saying, and more time communicating with them.
Installing the snom 320 is child's play and possible on the phone itself as well as by remote configuration. Further advantages are extensive Codec support and wide-ranging compatibility with SIP components made by other manufacturers. The support of STUN, NAT, ENUM, and numerous other functions allows flexible utilization behind local proxies, IP PBXs, and hosted VoIP services.
Concerning security, the snom 320 protects you with SRTP and TLS against wiretapping and unwanted access to signaling and authentication data. The snom 320's built-in three-way conference bridge eliminates external devices and services while offering high audio quality and minimal latency. These savings together with the snom 320's very low energy consumption (1.0 to 1.5 w-hrs in standby) and PoE (Power over Ethernet) truly help to lower your costs.
Refreshed Snom 320 Features and Functions
two-line display with graphical field
47 keys, 13 LEDs
12 programmable function keys
Speakerphone
Dual Ethernet connection
Power over Ethernet
Headset connection
SIP RFC3261
Security: SIPS/SRTP, TLS
STUN, ENUM, NAT, ICE
Codecs: G.711, G.729A, G.723.1, G.722, G.726, GSM 6.10 (Full rate)
National Language Support
very low energy consumption
CTI via snom Flexor Manager
What's Included
---
PLUS6 Warranty
Refreshed Products come with a standard 6 month warranty with an additional 6 months of coverage available through the PLUS6 WARRANTY.
All Refresh Products purchases are non-refundable. Replacement or store credit will be given if product is deemed defective inside of 6 months.
---
Why Buy Refresh?
✚ Value - Refresh products represent an exceptional value as they can be purchased for 20 to 25 percent less than their new equivalent retail price. ✚ Reliability- You can be assured that each product has been fully tested and ready to perform just like it was when originally purchased. ✚ Performance - All Refresh products go through an extensive reconditioning process which includes feature/functionality testing, component replacement (if necessary) and software upgrades. ✚ Warranty - Every Refresh product comes with a standard six month warranty that covers mechanical failures and defects. In addition VoIP Supply also offers an additional six months of protection through the Plus 6 warranty.
We're sorry, there are no downloads available at this time.
Manufacturer

Refresh

Model

Snom 320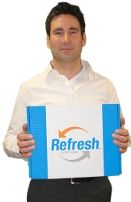 Michael Rehac
Direct: 716-213-6898
Blog
Why Pay
$109.99

for the Snom 320 (REFRESH)?
Allows use with both SIP and Microsoft OCS natively

Integrated VPN client allows telecommuters to establish a VPN connection without additional hardware

G.722 Wideband support with optional Klarvoice handset
For advice, reviews and industry insight... be sure to follow us online.