SNOM MP Expansion Mics
The Snom Meeting Point expansion microphones extend the audio radius of your conference telephone to up to 70m².
The integrated OmniSound® software automatically detects the additional microphones and thus extends by itself the working range of your snom MeetingPoint.
Product Overview
Note - these expansion microphones are WIRED, they are not wireless
We're sorry, there are no downloads available at this time.
Manufacturer

SNOM

Model

MP Expansion Mi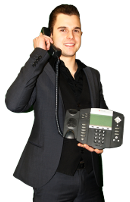 Brian Hyrek
Direct: 866-583-0815
Blog
For advice, reviews and industry insight... be sure to follow us online.