IP Conference Phones for VoIP Conferencing
Stop using your IP Phone's speakerphone – Get an IP Conference phone today. Choose from a dozen of the BEST in Conference phones without sacrificing this month's utility payment. No matter your need or budget, VoIP Supply has an IP Conference phone solution.
With full in-house support available, standard and extended warranties and the easiest buying process in the industry, it is no wonder folks like you are turning to VoIP Supply for their IP Conference phone needs.
Buying Advice
Customer Benefits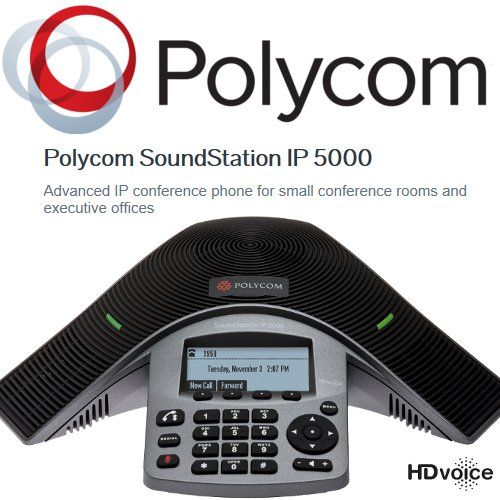 The Konftel 900102080 is a set of expansion microphones for the Konftel 300IP conference phone.

The Polycom IP 6000 is an advanced IP conference phone that delivers superior performance for small to midsize conference rooms.

The Konftel 300 is advanced analog conference phone which will cover an area of up to 323 feet (or 10 people) and offers high tech features such as local call recording and connection to an existing PA system.

The Clearone Chat 160 is a completely full-duplex speakerphone that contains HDConference?, the suite of high-performance audio technologies found in ClearOne's legendary professional conferencing systems. CHAT 160 users are no longer tethered to a PC via a headset cable and experience remarkably rich audio for natural, effortless conversations over Skype.

The Clearone Chat 70 is a personal speakerphone that connects to PCs and laptops for rich, full-duplex audio communication with Microsoft Office Communicator 2007. With HDConference? audio technologies, the CHAT 70 is the perfect audio peripheral for greatly enhanced collaboration through unified communication.

The Clearone Chat 170 is a speakerphone for individual or small group use, the CHAT 170 connects to PCs and laptops for rich, full-duplex audio communication with Microsoft Office Communicator 2007. The CHAT 170 is the perfect addition to the office or conference room for greatly enhanced collaboration.

The Clearone Chat 150 USB connects to PCs for rich, full-duplex audio communications, and can be used with VoIP softphones, web collaboration applications, instant messaging, and any other application requiring two-way audio.

The Panasonic KX-NT700 works with your existing telephone system, or operates natively on your business or broadband data network. The system includes a Three-Party Conference feature that lets you conference up to three units together, or conference one analog call into a two-party IP conference meeting.

The Plantronics Calisto P825-M is a multi-device speakerphone system that has been optimized for Microsoft Lync. The Calisto P825-M features a rich-sounding full duplex speakerphone, advanced noise cancellation technology and the PA50 wireless mic for increased mobility.
The Polycom IP 5000 conference phone delivers remarkably clear conference calls for small conference rooms and executive offices
Polycom IP 7000 PoE (REFRESH) 2200-40000-001

Regular Price: $499.99

Special Price: $489.99

Polycom IP 6000 PoE (REFRESH) 2200-15600-001