Spectralink 7740 DECT Phone for Healthcare
The
Spectralink 7740
handset provides durability and maximum functionality in a elegant wireless phone. The 7740 handset is prepared for third-party applications and comes with a specialized feature set designed for healthcare. With expanded safety features, the Spectralink 7740 (
formerly known as
KIRK 7040) handset is ideal for medical personnel within psychiatry where the personal safety might be at risk.
Spectralink's
line of IP DECT Phones are cost-effective, flexible and user friendly Dect solutions.
Spectralink 7740 Product Overview
Supported on Microsoft® Lync
Large color icons with customizable text messaging
1G9 version
Battery included
Man down, no movement and running detectors
Tear-off String and Alarm Key
Virtual SIM support
Bluetooth headset connection
HD Voice-ready
IP64 classified
Bacteria resistant
Membrane keypad for easy cleaning
Speech/stand by time: Up to 20/200 hours
Speech/stand by time: Up to 15/100 hours (Bluetooth enabled)
Weight incl. battery: 115g
Size (LxWxH): 148x50.4x20 mm
13 menu languages (UK, FR, DE, ES, IT, NL, CZ, PL, DK, NO, SV, FI, PT)
Requires Spectralink Wireless Server
Charger and charger power supply sold separately
Spectralink 7740 Features
How is the 7740 specifically designed for healthcare and nursing homes?
Improved Efficiency of Personnel: Information delivered instantly to the right person
Enhance Patient Satisfaction: Faster response time and more time for patient care.
Improve Reaction Time: Automatic alarms save critical time in life threatening situations.
Improve Communication Flow: Easy accessibility between departments.
Increase Safety of Patients and Personnel: Alarm button in case of emergencies.
Ensure High Level of Hygiene: Bacteria resistant handset avoids spread of bacteria.
Improve Safety and Response Time for Personnel: Man down, no movement, and running detectors notify authorities when help is needed.
Didn't find the DECT Phone you were looking for?
Check out these other Spectralink 7000 Series phones.
Spectralink 7740 Downloads
Manufacturer

Spectralink

Model

7740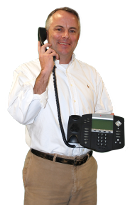 Joe Shanahan
Direct: 866-583-0920
Blog
For advice, reviews and industry insight... be sure to follow us online.