VXI Quick Disconnect QD1027-G Cord
The VXI QD1095G is a lower QD cord with a 2.5mm plug which fits Cisco 7905, Panasonic, Polycom CX100, Uniden, certain Grandstream, and Cisco SPA5xx VoIP Phones. It is compatible with VXI-G and Jabra/GN Netcom headsets.
We're sorry, there are no downloads available at this time.
Manufacturer

VXI Corporation

Model

QD1095G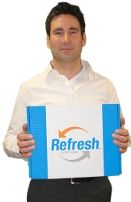 Michael Rehac
Direct: 716-213-6898
Blog
Why Pay
$9.99

for the VXI Quick Disconnect QD1095G Cord?
Quick Disconnect feature allows you to walk away from your desk without removing your headset

Works with a wide variety of VXI and Jabra headsets

2.5mm connectivity at a right angle for use with cordless and desk phones with a 2.5mm headset connection
For advice, reviews and industry insight... be sure to follow us online.