Yealink WMB-T46 Wall Mount
The Yealink WMB-T46 is the compatible wall mount fixture for the Yealink SIP-T46G Yealink IP Phone.
Need the wall mount for the other Yealink SIP-T48G Series phones? See the
Manufacturer

Yealink

Model

WMB-T46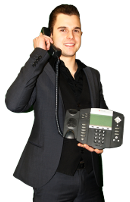 Brian Hyrek
Direct: 866-583-0815
Blog
Why Pay
$8.00

for the Yealink WMB-T46 Wall Mount?
For advice, reviews and industry insight... be sure to follow us online.