Product was successfully added to your shopping cart.
Product was successfully added to your shopping cart.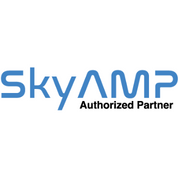 About SkyAMP
Stay Connected When It Matters Most
Established on August 10th, 2020, SkyAMP strives to provide resilient online connectivity that would continue to operate without failure, even under adverse conditions such as severe weather and local power availability. SkyAMP created the ultimate wireless contingency that ensures businesses and essential government agencies will have a stable and reliable connection when they need it most. All SkyAMP products come with a 5-year warranty!
What is SkyAMP?
SkyAMP devices are constructed from a mix of metallic materials and assembled under our patented process so that they function similarly to solid-state electronics, harnessing the power of physics and inherent qualities of the materials to make for an effective signal booster. SkyAMP is a new, game-changing, and patented technology. Users no longer need to worry about cables, wires, SIM cards, configuration, or even pairing or setup requirements - simply set it and get it!
Unpowered Wireless Signal Booster
Models available in DECT, 2.4 GHz WiFi, Bluetooth, and 4G Cellular
No cables, wires, SIM cards, configuration pairing or setup required
5-year manufacturer warranty
Carrier agnostic