Do you have a lot of VoIP questions waiting for answers and don't know where to start? Are you interested in exploring the opportunities to make your business easier or grow faster? Now is your chance to get the answers all at once!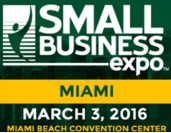 VoIP Supply is exhibiting at the Small Business Expo 2016 in Miami. We are here to help with any VoIP questions and  to customize the best VoIP solution for you.
The event will be held at the Miami Beach Convention Center on Thursday, March 3rd, 2016 from 9:30 a.m. to 5:00 p.m.  VoIP Supply will be at booth 511.  This event is FREE to attend. Register HERE today!
What you can benefit from visiting VoIP Supply at the …