Product was successfully added to your shopping cart.
Product was successfully added to your shopping cart.
Return Merchandise Authorization (RMA) Form
We're sorry to hear that a product you have purchased from VoIP Supply needs to be returned. We know what a hassle this can be, so we have designed our returns process to be as easy as possible.
After filling out the form below you will hear from a customer experience associate within 48 hours detailing instructions on how to proceed with your product return.
Before starting on the process of returning your product, please have your invoice number, account email address and the product(s) MAC addresses and serial numbers (found on a bar-coded sticker on the bottom or back of the product) handy.
You will need this information in order to proceed.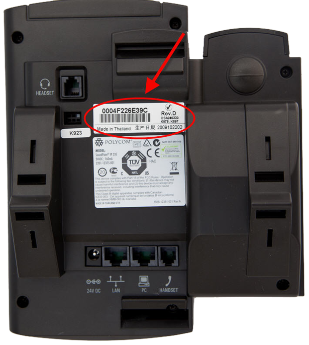 Note: Please make sure that all non-New in Box product you wish to return are indeed defective before proceeding. All product returns are tested by a VoIP Supply technician and product returns deemed to be working will be sent back to you.
For more information, please consult our Return Policy.
RMA Instructions
All Return Merchandise Authorizations (RMA's) are now issued through your account management portal on VoIPSupply.com and can no longer be manually processed by VoIP Supply sales or customer experience professionals without your account login and password. Click here to login and request an RMA.
Step 1: Login to your VoIPSupply.com account using the email address and password you selected during checkout. (If you do not remember your password, use the Forgot Your Password? link to have it sent to your email.)
Step 2: From your account overview screen, click on the My Orders link.
Step 3: On the My Orders screen, find the order that contains the product you wish to return. Then click on the View Order link to access the order.
Step 4: Now that you are viewing your order, click on the Request RMA link underneath your order number.
Step 5: On the next page, enter the Number of Units, the MAC Address(es) and Serial Number(s) for the product(s) you wish to return. (Remember to remove any other product from the form which you do not wish to return by clicking the Remove item link.
Step Six: Select the Condition of the product you wish to return and how you would like to be credited for this return.
Step Seven: Please enter a detailed description of why you are returning the product. If you do not fill this out completely, your RMA will be denied.
If at any point in this process you have questions, please email customer service at [email protected] - referencing your Order number or your Invoice number.
Thank You,
The Customer Experience Team