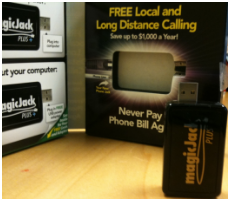 magicJack VocalTec, the popular VoIP service you might have seen on TV or at local drugstores, is known for its low pricing and simple setup process to billions of users across the world.
We've got a lot of customers asking about magicJack. "Can I replace my regular VoIP service with magicJack to reduce the service cost? Is it good enough for my business?" "What's the difference between using regular VoIP service and using magicJack?"
To answer those questions, you have to first understand how magicJack works and what advantages and disadvantages it brings.
The Pros and Cons of magicJack
Just like other VoIP service providers, magicJack utilizes existing Internet connection to enable you to make phone calls without an additional telephone service.
Pros: One of the biggest advantages of magicJack is a cheap VoIP service fee. With around $30 to $35 annual fee, you can make unlimited local and long distance phone calls to mobile phones and landlines in US, Canada, Puerto Rico and US Virgin Islands. However, be aware of the hidden costs that might come with the service such as taxes, fees in addition to the annual service fee, the cost of equipment, etc.
It's also very simple to set up.  Simply connect your computer or ethernet port to your phone through magicJack and power it, you are ready to call. (See setup diagram)
Cons: If you are a busy multitasker, you might be disappointed by magicJack as it only works on a high-speed Internet connection such as cable modem and DSL. We've heard customers encountered issues such as program crashing when they tried to run multiple tasks on their computers. And let's be honest, who doesn't normally have more than one program running at once.
Another common complaint is that magicJack reduces its costs by placing advertisements on users' computers, which can be unprofessional and distracting. This usually doesn't happen for regular VoIP services.
For business users, you might find the features provided magicJack limited. Although it covers the basic phone features such as call forwarding/ waiting/ transferring and caller ID, regular VoIP service provides a more comprehensive package including advanced analysis reports and voicemail to text message.
So, magicJack or Regular VoIP Service?
It all depends on how you will be using VoIP services. We can't speak for everyone but the general rule is: if you are just looking for a cheap VoIP solution to call your friends or family occasionally, magicJack is enough to handle your needs; if you are looking for a solution to build a small to medium size business or even a call center, regular VoIP service will be a way more reliable choice in terms of stability and features comparing to magicJack's.
Although the pricing and setup process of regular VoIP services are not as sweet as magicJack, it's all going to be paid off from the service and quality you get in the long term. Some customers also consider using magicJack as a supplement rather than replacing the existing service completely. Contact our VoIP specialists for a free consultation today at 800-398-VoIP to find out the best solution for your business.
See a quick comparison between magicJack and regular VoIP service here: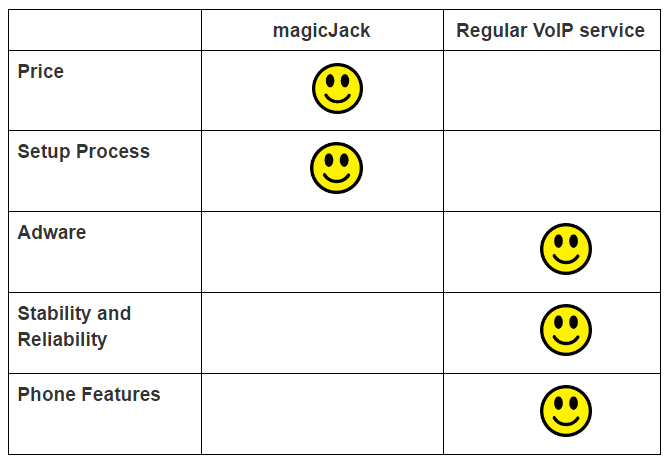 Are you using magicJack? How's your experience?