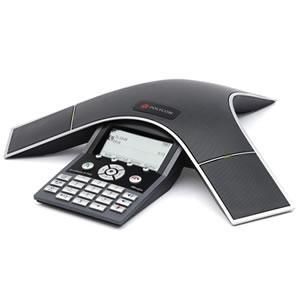 Polycom is known within the telephony market for both their analog and VoIP conference phones.  This post will focus on three current models of VoIP conference phones that Polycom offers. 
These Polycom phones offer a variety of solutions that are designed for any size conference rooms, allowing for interactive multiple person calls without sacrificing the quality of the call. 
They all come with Polycom HD voice technology, have the ability for desktop paging and also have standard voicemail, hold and mute buttons.  The phones can be powered through a standard AC power connection and via a Power over Ethernet switch as well.
IP5000
The Polycom SoundStation IP 5000 is the newest of the Polycom conference phones and is designed for conference calls in smaller spaces such as offices or small conference rooms. This Polycom Phone supports 7 kHz Polycom HD voice with a 7 foot microphone pickup range. It also has a 248×68 backlit white pixel display and 4 programmable keys. The IP 5000 does not have the ability to be expanded with external microphones.
IP6000
The Polycom SoundStation IP 6000 works in small to midsize rooms with a 12 foot microphone pickup range which can be expanded using expansion mics. There are both wired and wireless expansion mics available giving a couple of ways to expand the pickup range. It also has a 24×68 pixel white backlit display and has a 2.5mm headset jack.
IP7000
The Polycom SoundStation IP 7000 is the most feature rich of the three IP conference phone models.  Similar to the IP 6000, the IP 7000 includes a 2.5mm headset jack but has a larger 255×128 white backlit display. It is capable of a 20 foot range of microphone pickup, which can be expanded through external mics, and 22 kHz of CD quality sound.
You can also connect two units together in a daisy chain fashion to allow for extended microphone pickup and call volume. It can also be integrated with Polycom HDX to be utilized in video conferencing solutions. Another additional feature is the application port, which allows it to connect to PCs and mobile phones.
The Polycom Advantage
Polycom is the acknowledged leader in both analog and VoIP conferencing phones, and their suite of offerings in this space is second to none.  They have proven their worth time and again, and they continue to innovate and improve the quality and features of their products.  The simple fact is if you go with Polycom for your conference phones you will not be disappointed.
Need More Information?
If you would like more information on Polycom Conference Phones, or any other VoIP related subjects, please contact me directly:
Toll free direct (866) 583-0920