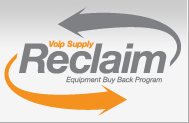 If you are looking to upgrade your VoIP System to a newer one or upgrade your VoIP phones to the latest and greatest, perhaps you have thought about what to do with your old VoIP Equipment.
VoIP Supply is a fantastic place to start your research. VoIP Supply's Reclaim program buys back old VoIP equipment and gives you credit towards your new VoIP System or VoIP Phones.
How Reclaim Program Works
First, you need to accept the fact that you have old VoIP equipment and you have to want to get rid of it.
There is no room for hoarders in the Reclaim program.  Once you have accepted that fact and are ready to be out with the old, contact our Reclaim Specialist, Mike Rehac. Email …