Got resiliency?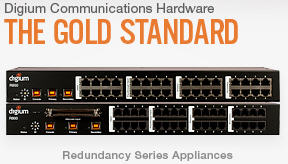 The newly released Digium R-Series redundancy appliances enable your network to recover from hardware or software failures and maintain communication with the outside world.  
Digium failover appliances work with their open source telephony platform Asterisk to ensure that you have an open line of communication even in demanding enviroments.
There are two models in the R-Series.  They work on Asterisk based open sourced PBX's but do not work on Switchvox.  Both models are 1U rack mount devices:
Digium R800:  Supports up to eight analog (POTS) circuits.
Digium R850:  Handles up to eight digital (T1, E1, PRI or BRI) spans.
What's The Difference?
So even in the event of a catastrophic failure, your communications system will stay up and running with the Digium R-Series.  That sounds great …