First Look: Panasonic SIP Phones
Did you know that Panasonic makes SIP Phones? Me neither, until I received a pack of four to demo in our lab at VoIP Supply. If you have been using Grandstream, Yealink, Aastra, or Polycom, you owe yourself a peek at the Panasonic SIP Phone Lineup.
What Makes Panasonic the Same
Just like the others out there, Panasonic offers all the great features you have come to expect in a decent SIP Phone:
PoE
Dual 10/100 Ethernet Ports
HD Voice
Full Duplex Speakerphone
Call Waiting
BLF
Three-Way Conference
Integration with other IP-Enabled devices such as intercoms, cameras, and door phones.
The Deskphone Linecard currently has four models available ranging from entry level to management-type. The Panasonic SIP lineup even includes a DECT phone. The Panasonic KX-TGP550 is a deskphone/DECT Phone hybrid.
Similar to the Aastra CT models, the TGP550 includes a Wired deskphone with a KX-TPA50 DECT handset. The DECT system will support up to three simultaneous calls and up to eight DID's.
Panasonic SIP Phones Features
Main features of Panasonic SIP phones include:
2 x 10/100 Ethernet Ports (All models except KX-UT113B Deskphone and KX-TPA50 Dect handset)
PoE Enabled, order power supply separately
HD Voice Equipped
Bright Backlit LCD (All except KX-UT113B)
Support for G.711, G.722, G.726, and G.729a codecs
KX-UT136B and KX-UT133B support Plantronics EHS for wireless headsets
2.5mm Headset Port
Asterisk/open-source, Broadsoft, and Broadworks certified
What Makes Panasonic Different
You will not find a Panasonic deskphone that comes in different colors or that offers a colored LCD display – YET. The five models of Panasonic desk phones all have the basic and enhanced features you would expect from a high quality SIP Phones but not the luxury features. They are all business.
The one thing I like about this line is that all the buttons on the phone are labeled with words. Maybe if you are 21 you may instinctively know what all the icons on your phone mean but there are some that I still don't know. For the average working adult, it is much easier to have a function key labeled with words rather than with a picture.
The keys are sturdy and spaced well and the backlit LCD is clear with a larger than average font. This phone is not delicate. It is heavy and, well, sturdy; something you will not be replacing every few years. And in the unlikely event that it is defective, it will be covered under a 2 year warranty – not your typical 1 year warranty.
If you are the type that likes to throw things, you will be pleasantly surprised with the durability of the Panasonic SIP Phones, but you should get VoIP Supply's Go3 No-Questions-Asked 3 year warranty just to be sure!
Understanding Panasonic Model Differences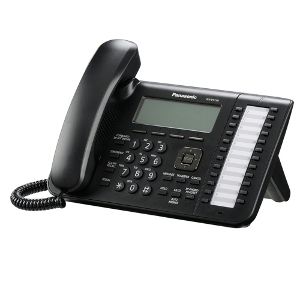 KX-UT136B
The Deskphone KX-UTxxx Linecard has four models.  The Panasonic KX-UT136B is the management level SIP Phone featuring:
242 x 109 pixel, six line backlit LCD display
Adjustable deskstand
Dual 10/100 Ethernet ports
3/5mm Plantronics EHS port
52 function keys including 12 write-in feature keys that can be programmed as you wish.
Ability to hold up to four SIP Accounts
KX-UT133
The Panasonic KX-UT133 has all the same features as the KX-UT136B except it only has a three line, 242×55 pixel backlit display.
KX-UT123B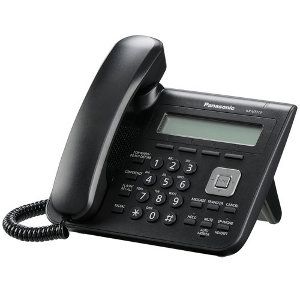 The Panasonic KX-UT123B will represent up to two SIP Accounts and features a 242×55, three line, white backlit display. It has 28 feature keys and does not have an adjustable desk mount. Like the KX133 and KX136, the KX123 has PoE, 2 x 10/100 Ethernet Ports, and features HD Voice.
KX-UT113B
The entry level Panasonic KX-UT113B is basically the same as the KX-123B with two exceptions. First, this phone has a non-backlit display. Secondly, it only has a single 10/100 Ethernet Port. With the priced-right UT113 you still enjoy HD Voice, up to two SIP accounts, and all the normal SIP phone features at a fraction of the price.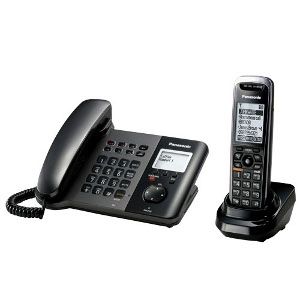 KX-TGP550
The Panasonic KX-TGP550 is the deskphone/DECT phone hybrid. The TGP550 system includes a wired deskphone with two SIP accounts and a KX-TPA50 DECT Phone with one SIP account. The deskphone acts as the base for the TPA50 DECT phone and accordingly you can add up to 6 total handsets to each deskset. It has all the same features as the rest of the KT-UT line with the advantage of offering a wireless option. Each DECT system can have up to 8 DID's and up to 3 simultaneous calls.
KX-TGP500
Don't need a corded deskphone? The Panasonic KX-TGP500 is a standalone DECT phone that includes the base station and TPA50 DECT handset. Like the TGP550 system, you can add up to six handsets and have up to three simultaneous calls per base station.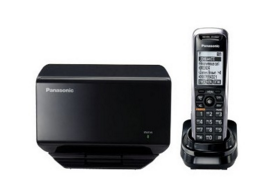 Add additional KX-TPA50 handsets to your KX-TGP500 or KX-TGP550 base set to give you the mobility in your office to go anywhere. All you need is a single internet port where the base station is and then simply place your KX-TPA50 handsets where ever you need them as long as there is a power outlet.
It is that easy!