Introducing Jabra's New EarBuds: The Jabra Evolve2 Buds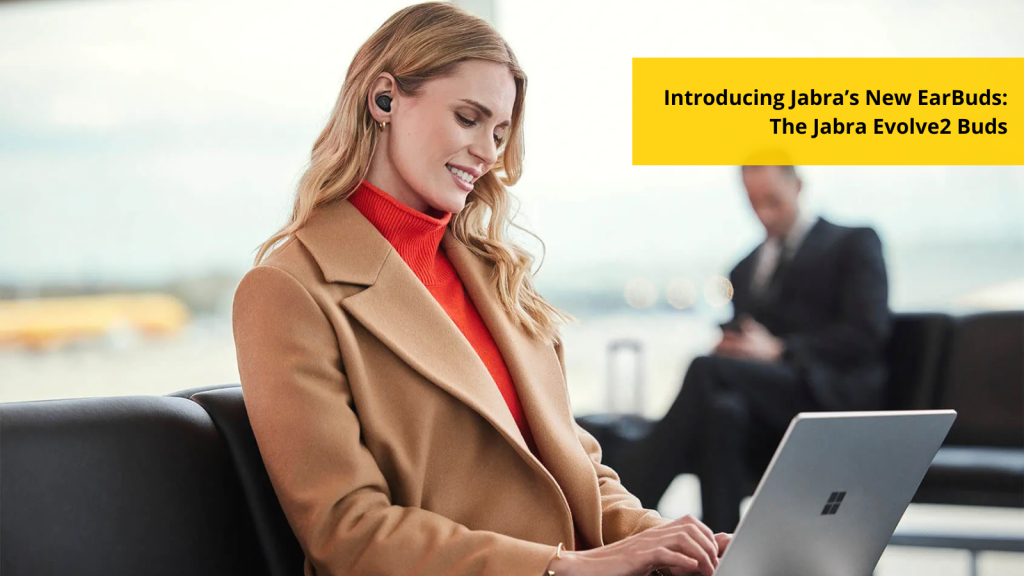 With the advent and rise of virtual meetings and video conferences that have taken place over the past few years, there has been an advancement in the technology necessary to deliver and meet the demands of such processions.
And with this rise has come the increase in hybrid workers who work outside the office, whether that be at home, in a remote location, or somewhere on the go. The hybrid worker finds themselves wanting, and in need of, supplemental accessories that will allow them to keep up with this ever-changing technology while providing the comfort, mobility, and resourcefulness they need without having to sacrifice their professionalism.
Of vital importance when taking part in these virtual meetings is the ability to hear, see, and speak clearly while having the ability to follow what's going on and be an active participant. As we all know, when one or all of these functions are lost or something goes wrong, you can find yourself in a compromised position as you star in an ill-timed one-person production of "see no evil, hear no evil, speak no evil" where the best you can do is to hope to find pity from your audience as you blame a bad connection, faulty equipment, or feign ignorance because you'd hate to admit that you have forgotten to unmute yourself.
You may be asking yourself, or you may be addressing me in absentia as I'm nowhere to be found, "My gosh! What's this? Tony, what's all that stammering? Product announcements usually list attributes! So, let's have it!"
What I'm here to tell you about, to talk to you about, is the next step in headphones, the evolution of how you not only hear out of, but wear, headphones with the release of Jabra's new Jabra Evolve2 Buds.
The Jabra Evolve2 Buds are the new generation of professional true wireless earbuds. The Evolve2 Buds are the new addition to Jabra's line of headphones and earbuds. These small, lightweight, and discreet earbuds have been specifically designed to easily fit in your ear for all-day comfort while providing crystal-clear sound quality.
Now, you may be saying: "Hey, Tony, I don't know about this. I don't like putting things in my ear or even having things put in my ear." You might be someone who upon just hearing the word "earworm" gets the shivers or the thought of getting water in your ear is enough to keep you on dry land and become the epitome of "landlubber."
To this, dear reader, I say, these earbuds are different and I ask that you let me put your mind at ease.
Let me begin by admitting that I am not someone who has been known to be a headphone wearer. Over my many decades of work and taking part in phone calls, conference calls, and meetings, you'd more than likely find the phone handle pressed against my face or the phone on speaker with the volume set to low. Rare would be the sight of me wearing a pair. However, nowadays, as I found myself participating in more and more video calls, I came to enjoy a good, comfortable pair of headphones that fit neatly over my head and settle softly on my ears.
And after wearing and utilizing the Jabra Evolve2 Buds, I've come to a new appreciation for the art of wearing headphones. Not only do these earbuds have a snug fit with no feeling of invasiveness, it feels like you're not wearing anything at all.
And being true wireless, I can move about as I listen and talk and still get great call quality without having to worry about missing a beat!
To help us further understand and get a full picture of the Jabra Evolve2 Buds, and what they have to offer, I've compiled the following list of key features:
Professional-grade true wireless earbuds
Advanced Bluetooth® Multipoint connection
MultiSensor Voice™
You may be thinking that there's a lot there to take in. But, again, I say it's OK as we're going to go through this together.
The Jabra Evolve2 Buds are closed-in true wireless earbuds. There are no wires between the earbuds or between the earbuds and the device, so you won't have to worry about getting tangled up in, choked by, or caught up in headphone wires. There are no wires, period! With no connecting wires, you are no longer tethered to your desk, improving cordless flexibility and freeing you to move around all you want.
Bluetooth® Multipoint connection allows you to stay seamlessly connected to two devices. Connect your earbuds to two devices of your choice, for example, a smartphone and a laptop. Should you get a call on your smartphone while you are on your laptop, the headset sets an alert on the other device. This ensures you're always aware of incoming calls and notifications. (The knock knock tone you hear is not the beginning of a bad knock-knock joke, but an alert coming from your earphones.)
With Jabra Evolve2 Buds using Jabra's trademark MultiSensor Voice™ technology, which uses a combination of four microphones and bone conduction sensors to reduce disruptive background noise, you won't have to worry about obstructive noises or about not being heard. 
The four microphones transmit your voice clearly from anywhere. Users get the call quality they need to sound professional.
Bone Conducting? Yes, Bone Conducting (not Bone Crushing or anything else harmful). Bone Conducting is just another way of saying vibrations! When you talk while wearing the Evolve2 Buds, the vibrations travel up your jawbone. Then the bone conduction sensors, which are placed in both earbuds, pick up and recognize the vibrations and transmit them as sound, just like a regular microphone.
And what of this Noise Cancellation, you say? You want more noise cancellation and less noise! Well, if you recall, we talked about a snug, comfortable fit earlier. That snug fit is due to an ultra-compact design that can be combined with Active Noise Cancellation (ANC) to help drown out those outside distractions and soothe into the quieter moments.
And don't forget Bone Conducting sensors when it comes to Noise Cancellation. These sensors can pick up surrounding noises and other possible interferences, like a rustling wind blowing all around you, and mix these signals with those from the microphones to block out as much of the surrounding noise as possible
Additional Jabra Evolve2 Buds features include a plug-and-play USB adapter that boosts your connection and makes it more stable, with fewer dropouts, and up to 20 meters / 65 feet wireless range, a battery life of 5 hours talk time with up to 33 hours with the charging case, a pocketable charging case with integrated USB adapter storage that is Qi-certified for wireless charging and lastly, the Evolve2 Buds are certified for leading UC platforms and available in a Microsoft Teams variant.
In closing, for those hybrid workers who find themselves working unconventional schedules (sometimes in the office, sometimes at home, sometimes in unconventional places) while adapting to the hybrid work environment, the Jabra Evolve2 Buds do have everything hybrid working professionals need to make the most of working on the go and are definitely worth exploring.
And for me, I got out of my head, put these buds in my ears, and enjoyed the ride!