About The GWN 7600 Series
The GWN 7600 Series are the wireless access points (APs) that facilitate wired and wireless network access to large custom areas indoors. This series includes the GWN 7600 Entry-Level Access Point and the GWN 7610 Mid-Range Access Point.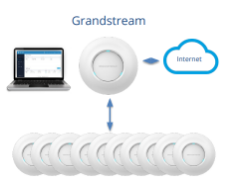 From small-sized businesses, multiple floor offices, to multiple branch offices, the GWN 7600 series has the right solution to cover all your needs, providing dual-band network throughput and expanded WiFi coverage range. With up to 175 meters range and over 250 concurrent clients access, the GWN 7600 series is a very powerful solution for commercial locations that have medium wireless network deployments with medium-to-high user density.
The GWN 7600 Series also features the Controller-less Management, an easy and centralized management through a …