What is it?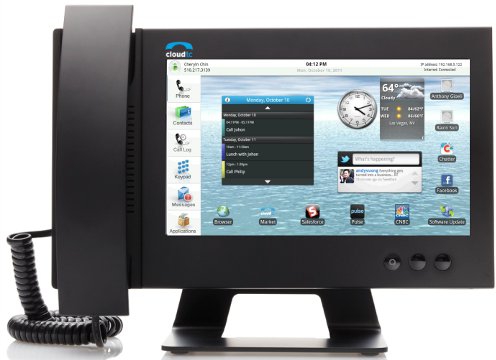 The CloudTC Glass 1000 is a touch screen desktop VoIP phone running on the Android OS platform.
With Android's open-platform, the CloudTC Glass is just like any other smartphone that, with the addition of new business apps, will continue to evolve as your needs change making it virtually future-proof.
What does it do?
The CloudTC Glass aims to make your work life easier.  According to CloudTC tests, their studies show that just by using the Glass 1000′s touch screen for phone tasks, you can save 30 minutes a day.
That's one half hour extra per day you can spend conducting actual business on the phone (like checking March Madness updates on Twitter or Facebooking friends from that handy touch screen).
The CloudTC Glass 1000 main features include:
Google Android 2.1 operating system.
LARGE 8.9″ capacitive, color touch screen (like an iPhone) with 1024 x 600 resolution including a glass overlay that presents a vibrant and easily navigable GUI.
Six lines with call appearances.
Integration with your Outlook contacts, your businesses CRM systems, and Salesforce calling app
UPDATE (04/2012):  Bluetooth integration now available.
Built-in CloudTC  App Market.
"Screen Sharing App"  that allows instant PC screen sharing with the person you're talking to.
"One-Touch Calling" meaning that with one touch you can: Listen to voicemail, transfer calls, conference a call, and access frequently called numbers right from the home screen.
HD audio qulity that uses more powerful hardware echo cancellation (versus software echo cancellation) plus microphone isolation to make sure no sound leaks in when using the speakerphone.
Dual switched 10/100 Ethernet ports allow shared PC connection and saves on additional wiring costs.
1-year warranty.
Who is it for?
The CloudTC Glass 1000 is great for anyone who wants a smarter phone on their desk and prefers the simplicity and ease of using a touch screen.  Essentially you'll have an extra monitor on your desk becuause with the  ability for business users and 3rd party developers to add their own applications, customized phone usage tailored to your CRM system is entirely possible.  With an open platform, how this phone can make your work day more efficient is limited only by what you can dream up.
CloutTC views themselves as a software company; their phones are a means to an end so it's possible to special purpose the Glass 1000 for applications in hospitals, hotels, law offices, etc.
Custom hardware designs are also available on a case-by-case basis.  Email CloudTC to find out more.
Easy to Provision
The CloudTC Glass 1000 is Broadsoft and Metaswitch certified and has Asterisk SIP interoperability.  The Glass 1000 will auto provision by simply plugging it in and entering the provisioning URL that's been provided to you.  Or, to manually provision the phone, follow these simple steps:
1.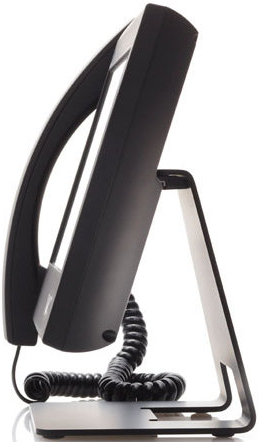 Go to the Home Screen
2.  Click on the "Applications" button
3.  From there click on "Phone Status"
4.  Then hit "Phone Settings" and from there you can enter your provisioning info.
5.  That's it.
Availability?
The CloudTC Glass 1000 is available now!
Download