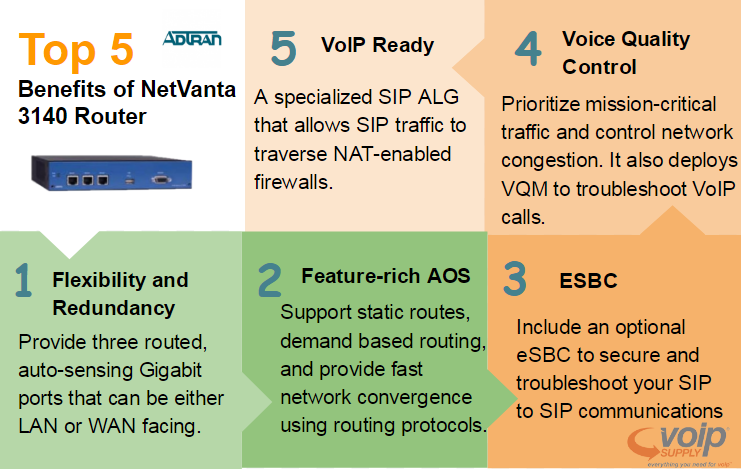 The NetVanta Series is a comprehensive portfolio of enterprise-class networking equipment designed to cut costs in your network without compromising performance. Recently, ADTRAN released a new NetVanta family member – the NetVanta 3140, a fixed-port, high-performance Ethernet router supporting converged access and high-quality voice services.
This brand new router is an excellent selection for fast-growing small-to-mid-sized businesses looking for a fast, easy, and extremely flexible solution. It is ideal for carrier-bundled service offerings, and enterprise class Internet access for secure, high-speed, corporate connectivity. Let's see what hot features it has to offer!

Top 5 Benefits of The NetVanta 3140
#1 Flexibility and Redundancy
The NetVanta 3140 is ideal for multiple applications where Ethernet redundancy is needed given the three Gigabit ports that can be either LAN or WAN facing. This solution also features a USB interface that can be used for 3G/4G backup. If your deployment still separates voice and data network, the NetVanta 3140 will be a perfect fit with a single WAN link and the other two Gigabit interfaces.
#2 Feature-rich ADTRAN® Operating System (AOS)
The ADTRAN Operating System (AOS) allows for the support of static and default routes, demand and policy based routing, and provides fast, accurate network convergence using routing protocols such as BGP, OSPF, RIP, and PIM Sparse Mode for multicast routing.
The AOS provides a powerful inspection firewall that can protect against common Denial of Service (DoS) attacks like TCP syn flooding, IP spoofing, and more. Its Web-based GUI comes with step-by-step configuration wizard, management capability, and the ability to upload firmware updates.
#3 Enterprise Session Border Controller (eSBC)
As having an eSBC became mandatory for most VoIP deployments, the NetVanta 3140 also includes an optional eSBC to secure and troubleshoot your SIP to SIP communications. This featured eSBC builds strong, robust network security and enables voice interoperability, delivering a truly converged application platform at the customer premises.
#4 Voice Quality Control
The NetVanta 3140 uses Low Latency Queuing, Weighted Fair Queuing (WFQ), Class-based WFQ, and DiffServ marking to prioritize mission-critical traffic and control network congestion. It also deploys Voice Quality Monitoring (VQM) to capture, MOS, jitter, delay, and packet loss statistics to troubleshoot VoIP calls over the WAN. This diagnostic tool is extremely valuable because it isolates the network issues in real-time and ensures superior call quality at all times.
#5 VoIP Ready
The NetVanta 3140 highlights a specialized SIP ALG that allows SIP traffic to traverse NAT-enabled firewalls. This interoperability allows IP PBXs, phones, and other SIP-based devices to set up, tear down, and pass voice and call control messages seamlessly through the integral NAT-enabled firewall. In combination with the QoS and VQM features, the NetVanta is truly VoIP ready and is available as either a desktop or rack-mountable platform.
Access to the NetVanta 3140 Datasheet
More Benefits to See!