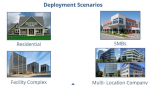 Grandstream GDS3710: What is it?
The GDS3710 is a new hemispheric HD IP Video Door System that can be used to monitor an area from wall to wall without any blind spots. This high-definition IP surveillance camera provides 180-degree coverage for maximum security. It has 1080p FHD video resolutions for clear video in all lighting conditions.
The GDS3710 is also an IP Intercom that serves as an access control unit. It has a built-in digital microphone that can pick up noise up to 1.5 meters away. It also has a built-in HD loudspeaker with a range of 3 meters. The GDS3710 features full duplex audio with advanced Active Echo cancellation (AEC) and Background Noise Suppression so that you can hear only what is important.
Different Access Options:
Independent Access:                                 Controlled Access:
RFID cards or fobs                                           Ring doorbell
Custom numeric codes                                    Dial an extension
Guest codes (with time settings)                     Motion detection
Dual authentication (RFID & code combination)

The GDS3710 supports alarm-in and alarm-out technology with (2) alarm inputs for door sensors or other like devices and (2) alarm outputs for electric locks, light switches or like devices.
Where can the GDS3710 be used?
Home Security
The GDS3710 is ideal for home security and access control. Users can monitor the perimeter as well as use the GDS3710 as a way to let visitors in and out of the property. You can set the GDS3710 to only sound when someone rings the doorbell, or you can also set it to detect motion and trigger an alarm.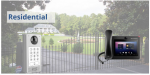 Small and Medium Businesses
The GDS3710 is a great tool for small to medium sized offices, apartment units or dorms where there is a need to control who enters a building. The GDS3710 can be programmed to require a custom numeric code, a RFID card or fob in order to gain access to a building or area.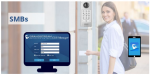 Multiple locations
In a multiple location scenario integration with Grandstream's IP PBX's and Video Recorders would be essential for seamless integration. A PoE Switch will also be necessary. The GDS could be used to control more than entry into a building. It could be used to control lighting and trigger alarms for specified scenarios.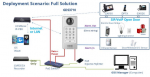 Facility Complex
Similar to a SMB deployment, the GDS3710 can be used to serve as an access control unit in an office, school or housing complex. When used with a Grandstream video phone, for example, a receptionist would be able to see who is standing at the door of the office right on her desk phone. The receptionist would be able to talk to the visitor and open the door directly through the deskphone.

GDS3710 and Grandstream Phones
The GDS3710 can be used with  Grandstream's GXP2100 Series allowing users to open and close doors, store snapshots, watch live video feeds as well as use the intercom functionality through the phone's interface. The GDS3710 can also be used with Grandstream's GXV3275 and GXV3240 for full integration including motion detection configuration to store video feeds.
When used with Grandstream's GXP1600 Series and GXP1700 Series users will only enjoy the Intercom feature, voice only.
GDS3710 and Grandstream Video Recorders
You can record to the Grandstream GVR3552 and the GVR3550 and also directly store live video feed.
How is the GDS3710 Managed?
You can manage your GDS3710 through the GDSManager, a free management software. Through the manager you can manage the RFID cards, view reports for door entrance as well as manage attendance.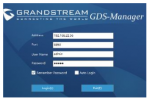 The GDSManager is available to download on Grandstream.com. Go to the "Resources" page and then find the GDS3710.