10 Must-Have Portable Speakerphones for Road Warriors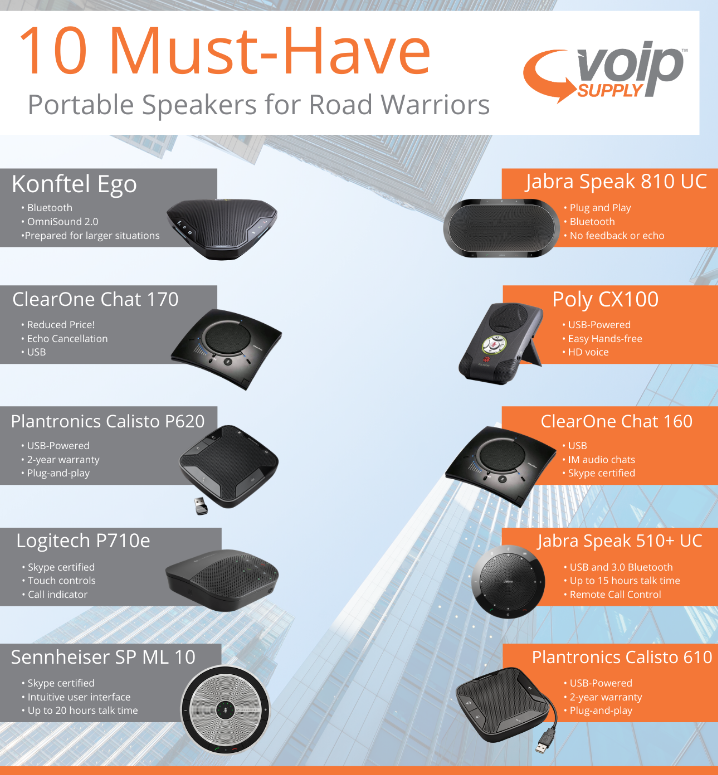 If you are one of the road warriors,  you must know how difficult it is to keep connected with your work on the road without a decent and reliable communication solution. Here we have collected a list of 10 must-have portable speakers that are designed specifically for travelers just like you. Let's take a look!
You can't travel without a personal conference phone like Plantronics' Calisto 7200. Designed with mobility in mind, Calisto 7200is a Bluetooth speakerphone with four directional microphones for 360-degree coverage that offers superb conferencing quality for small rooms. This is a portable wireless UC speakerphone that instantly transforms your laptop/ smartphone into a lifelike conferencing device. Check out the Calisto 7200 datasheet.

Jabra's SPEAK 510 speakerphone allows you to make conference calls anywhere on the road. With Bluetooth and USB connectivity, you can connect the Jabra 510 easily to your PC, tablet or smartphone within seconds. This solution features up to 15 hours wireless talk time and remote call control, giving you the flexibility you need. Check out the SPEAK 510 datasheet.
The Yealink CP700 is a portable speakerphone that when paired with the included BT50 dongle provides Bluetooth connectivity for use with PCs, tablets, and smartphones. The CP700-BT is a lightweight and portable, yet efficient and high-quality speakerphone that will let you make clear calls wherever work takes you. Check out the CP700 datasheet.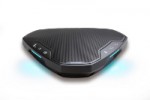 The Konftel Ego is a compact and wireless personal speakerphone that delivers lifelike sounds with unique OmniSound® audio technology. This solution is perfect to use for a meeting with a couple colleagues in small rooms or in a hotel room when you are away from the office. The Ego is ideal alternative to a handset that works harmoniously with Skype for Business, Cisco, Avaya Communicator and more. Check out Konftel Ego datasheet.
A complete full-duplex speakerphone that contains HDConference, the suite of high-performance audio technologies. The ClearOne Chat 160 are easy to pair with multiple VoIP softphones such as Skype. Its advanced automatic level management will make your trip just easier! Check out the Chat 160 datasheet!
The CX 100 comes with 2 high-quality microphones that offer excellent range for small group conversations. It is a USB-powered speakerphone with dynamic noise reduction and HD voice quality. Very simple to set up and use in seconds!
If you are looking for a solution that not only gives you an easy collaboration but also a quick setup process, Jabra's SPEAK 810 speakerphone will be your go-to solution. This device is designed for simple use and easy conversation. The excellent sound provides a natural call feel with no feedback or echo.
Looking for a worry-free solution? Choose the Plantronics Calisto 610, a portable USB speakerphone that comes with a 2-year limited warranty. This solution provides premium audio with echo cancellation and Omnidirectional microphone for 360-degree microphone pickup. It is ideal for team calls within small groups anywhere anytime.
The Logitech P710e is another great choice when it comes to making a conference call on the road. A 15-hour life battery and USB and Bluetooth connectivity give you a peace of mind traveling without a power supply. I personally love its integrated mobile device stand that enables shake-free video calls and hands-free access to the screen (perfect for multi-taskers like you and me!). Download the P710e datasheet.
The Sennheiser SP ML 10 Speakerphone is a multiple product awards winner in 2014. This device is the answer to easy management and high voice quality. Users love this long lasting wireless device that gives you up to 20 hours talk time without worrying about the low battery. The Sennheiser SP 10 ML is also Skype for Business certified which ensures you an outstanding communication experience when pairing with the Skype for Business. Check out the datasheet!
Are you a road warrior? What's your must-bring device on the road? Share with us!