3 Typical VoIP Adapter Functions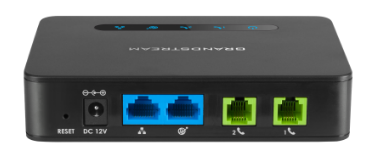 A VoIP adapter is a device that converts analog voice signals into digital IP packets for transport over an IP network. It plays an important role in the VoIP world. Many VoIP users can't live without VoIP adapters because they provide the simplest and easiest way to switch to VoIP. Let's check out some of the typical functions of a VoIP adapter!
There are three primary uses for a VoIP adapters and these are also the most popular applications.
3 Typical Uses for a VoIP Adapter
#1 VoIP Enabling your traditional telephone
Do you prefer the old telephone that you've been using for years and don't want to switch to a new one? Not a problem. Using an FXS VoIP adapter you will be able to keep your existing phone and turn that into a VoIP phone!
#2 VoIP Enabling a small PBX System
If you use a small PBX or key system, you can leverage VoIP without having to buy a VoIP PBX. Using an FXS VoIP adapter you will be able to connect your existing PBX with the IP network allowing your PBX to send and receive VoIP calls.
#3 PSTN Connectivity for your VoIP System
Your communications are critical to your business operations. You can't be without the ability to send and receive phone calls. With VoIP if your network goes down or you lose Internet connectivity you will not be able to send or receive calls – even emergency calls. To prevent this, you can use an FXO VoIP adapter to connect to the PSTN giving you failover and life-line capability.
Now you have learned the typical functions of VoIP adapters, check out our buyer's guide to learn more about the types of VoIP adapters and how to select the VoIP adapter that works best for your business!