4 Reasons Why You Should Upgrade your Legacy WiFi Phones
When was the last time you examined your communication system? Your VoIP system is just like an insurance plan that needs to be re-evaluated regularly to make sure that you are taking full advantage of the solution you have. Your Spectralink WiFi phones are no exception!
Today, we are going to tell you the top four reasons why our Spectralink customers upgraded their legacy phones to a newer model (Spectralink 84 or PIVOT 87-Series):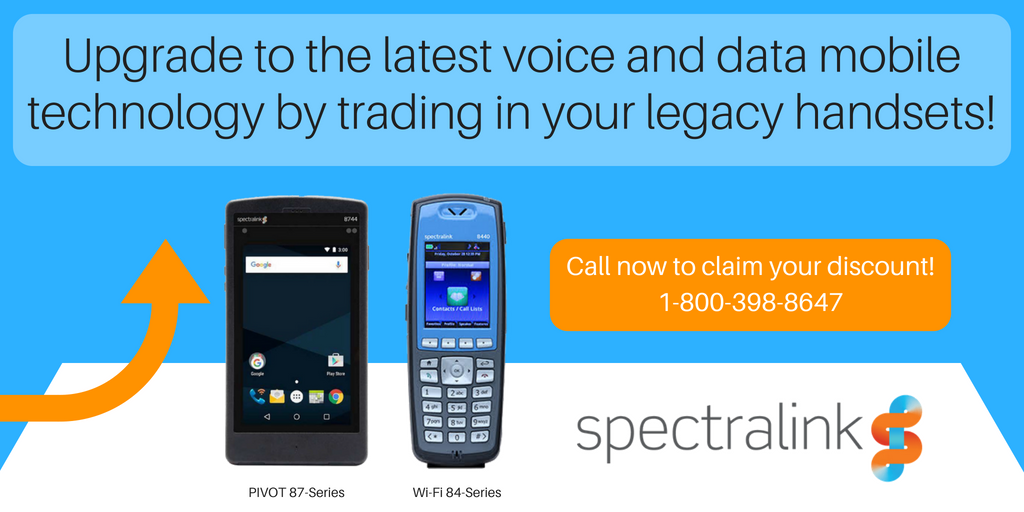 1. Communication Security
Spectralink has been relentlessly improving their technology to ensure that their users can enjoy the most secure communications. Your legacy Spectralink phone might be outdated and not able to protect you from the evolved malicious attacks. That's why you need the 84-Series WiFi phone that offers you the most updated, enterprise-grade security options to enhance your communication quality and safety.
2. Most up-to-date functions and features
To maximize your work efficiency, you want to make sure that you have access to the most up-to-date features and functions. A newer Spectralink device like the 84-Series or the PIVOT 87-Series WiFi phones will give you all you need to be competitive and efficient.
3. Compatibility & Support
Your legacy devices might not support some of the latest integrations and management systems. By upgrading to a newer model, you will be able to avoid many compatibilities and support issues! 
4. New Promotions!
Last but not least, when there's a promotion that will save you more, why not take advantage of it? Spectralink is offering a trade-in promotion where you will enjoy discounts when you trade in your legacy (Spectralink or OEM) handsets!
The Spectralink WiFi phones are optimized for clear and consistent voice communication. The 84-Series and PIVOT 87-Series are designed for all walks of life from health care to retail and industrial users. Click here to see the datasheet!
Are you ready to upgrade? Contact one of our VoIP consultants at 1-800-398-8647 today!