5 Best Android-Based VoIP Phones
Are you and your team using Android applications? Keep your team on the platforms you are familiar with while taking advantage of more VoIP features with our best Android IP Phones! Check out these 5 popular Android VoIP phones we have available: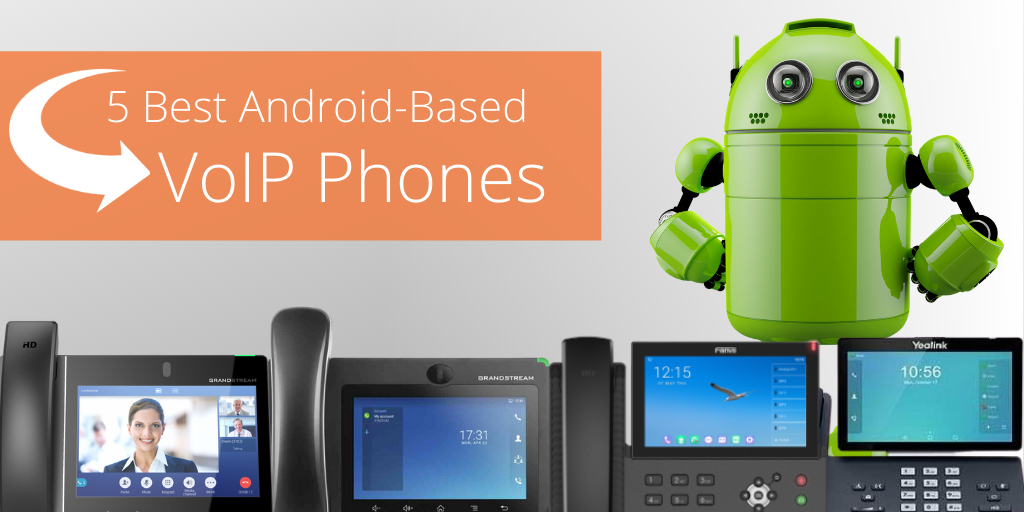 Have you checked out our latest Android phone? Fanvil's X7A runs on Android 9.0 operating system and supports popular applications such as Zoom, Weechat, MS Teams, WebEx, DingDing , and more! Visit our product page to learn more!
Did you know you can also easily add an external USB camera to your X7A Android phone for a complete video calling experience? The CM60 camera has a wide-angle lens which gives you a wider, clearer view with improved performance in a dark environment. Learn more about the CM60 here!
Android 9.0 OS
7-inch color touch screen
112 one-touch DSS keys
HD audio with Harman speaker
Wideband codec G.722 and audio codec Opus
Built-in 2.4G/5G WiFi & Bluetooth
Grandstream's GXV 3370 runs on AndroidTM 7.0 operating system with flexible SDK support for custom apps. It is also equipped with WiFi and Bluetooth, a 7'' touchscreen display and Gigabit speeds. This Android phone is a popular video phone for telecom health professionals, remote staff, and more business professionals. Learn more here!
16 lines with up to 16 SIP accounts
Runs on AndroidTM 7.0 operating system with flexible SDK support
Integrated WiFi & Bluetooth
PoE/PoE+ to power device and provide a network connection
Speakerphone with HD acoustic chamber & echo cancellation
7-inch capacitive 5-point touch screen
Strong security and encryption protocols
If you know about Yealink, you must have heard of their T5 series phones. The T58A Android Phone is an upgraded version of the T58V IP Phone. This version includes an enriched HD audio and video experience, and advanced features including content sharing, built-in WiFi and Bluetooth, and more.
Better yet, Yealink's T58A is Android-based which makes it very easy for professionals who want to use the applications they are already familiar with. Learn more here!
Android-based smartphone, well suited for executives and busy managers with collaboration demands
HD voice with Yealink Acoustic Shield and Noise Proof technologies
7" 1024×600-pixel color touch display, fully adjustable
Plug and play 720p HD video camera
7″ touch memory keys, 16 SIP accounts
Built-in Bluetooth and Wi-Fi
The CP960 is an Android-based voice conference phone with two optional wireless microphones. It runs on the Android 5.1 operating system.
This smart device is built for easy use. The Active Speaker feature allows you to recognize who is speaking during the meeting – a great solution for large meetings with more participants. Multiple connectivity options are available including Bluetooth, USB Micro-B, and more. Learn more here!
Optimal HD audio, full duplex technology
Yealink Noise Proof Technology
20-foot and 360-degree microphone pickup range
Two additional CP Wireless Expansion Mic CPW90
Built-in 3-microphone array
Based on Android 5.1 operating system
The GXV3380 is a great video phone option for remote workers. This 16-line IP phone comes with the power of a high-performance Android tablet with video calling features.
The GXV3380 runs on Android 7.0, giving users instant access to thousands of applications you are familiar with! Learn more here.
16 lines with up to 16 SIP accounts
Built-in 2 megapixel camera for video calling with privacy shutter
Runs on the Android 7.x operating system
Built-in Bluetooth for syncing with mobile devices and connecting Bluetooth headsets
Dual-switched auto-sensing 10/100/1000Mbps network ports
Integrated dual-band Wi-Fi (2.4GHz & 5GHz)