5 Ways VTech-Snom Can Help Your Business Overcome Communication Challenges
When it comes to cordless telephones, VTech is second to none. Leveraging their global experience in telephony, engineering, and manufacturing with the technical expertise of Snom, VTech delivers innovative and diverse product lines.
VTech does more than just manufacturing business phones. They improve your business communications. But don't take our word for it. Check out the five ways VTech can help your business overcome communication challenges.
1. VTech uses a vertically-integrated infrastructure to design superior phones
The VTech global team of more than 1,500 R&D professionals continually innovate VTech and Snom products. Through state-of-the-art research, engineering and global design influence, VTech delivers high-quality products to customers at affordable prices.
2. The Versatile Product Portfolio fits your business – big or small
From small offices to enterprise level corporations, VTech has the ideal solution to satisfy your requirements. Known for easy-to-use and cost-effective designs, VTech and Snom offer a wide range of product lines including:
SIP phones
DECT wireless desksets
Wireless conference speakerphones
Wireless headsets, softphone applications
Broadcast solutions
Public announcement systems
Multi-base station DECT systems
Campus deployments
Specialized hospitality phones
Click here to see VTech products.
3. Industry-Leading Warranties give you peace of mind
At VTech, your satisfaction is their priority. To ensure a good communication experience, VTech provides best-in-class warranties, which covers three years on the SIP desksets and two years on the conference phones. Now that's what we call great coverage!
Unlike their competitors, VTech sends out new products as advanced part replacements when needed. This way, you can minimize downtime and increase satisfaction for your customers and partners. This is an extremely valuable service that will make you stand out.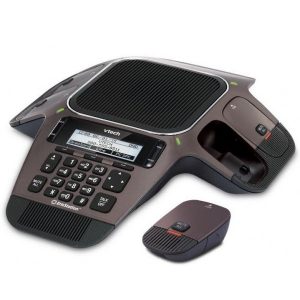 4. Complementary support helps you through the sales and setup process
Most importantly, VTech offers help when you need it. You'll receive end-to-end support (pre-sales, post-sales and field sales) from a team of U.S.-based sales people, engineers, and marketing executives to assist you with any issues or concerns. This support is particularly crucial when you have a limited IT staff.
5. VTech uses their vertical market expertise to meet your unique needs
As a market leader in the hospitality industry with specialized product offerings and dedicated sales and support teams, VTech is the only hospitality-certified room phone vendor on the BroadCloud® platform. VTech is continuously developing telephony solutions and programs to meet the unique needs of vertical market customers, including those in public sector, grades K-12, and higher education. 
Interested in learning more about VTech products? Call one of our VoIP experts today at 1-800-398-8647 to get your questions answered.  Or visit the VTech product page to learn about the products yourself.