8 Like-New Products to Increase Your Work Productivity at a Lower Cost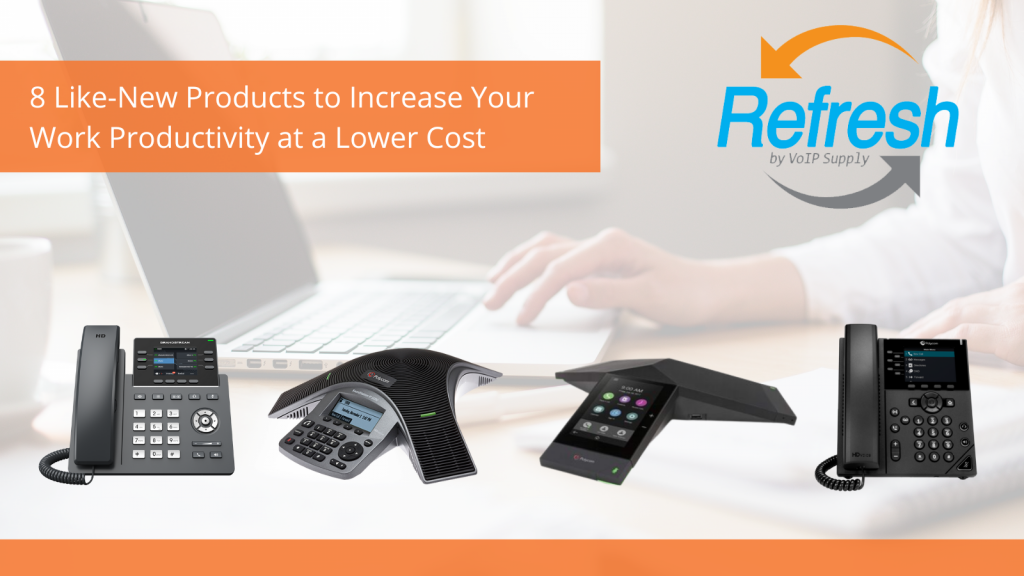 Do you have a limited budget this coming year? Try VoIP Supply's Like-New products! These VoIP devices went through a thorough 10-step reconditioning process and come with a 1-year warranty! To get you started, here are the top 8 like-new VoIP Phones at lower pricing that will increase your work productivity:
Grandstream's GRP2613 is a powerful carrier-grade IP Phone featuring dual Gigabit ports, 3 lines, and zero-touch provisioning. This device is designed to make mass deployment and management a breeze!
Key Features:
2.8″ color LCD screen
3+3 line keys, 3 SIP accounts
Gigabit network ports, PoE
Digital BLF & speed dial keys, 4 programmable soft keys
Support of up to 24 VPKs (4 pages)
If you are looking for a solution for your personal meeting or small conference rooms, Poly's IP 5000 is your go-to solution! The IP 5000 Phone delivers remarkably clear conference calls with 7-foot microphone pickup and Polycom HD Voice.
Key Features:
Polycom HD Voice for high-fidelity calls at up to 7 kHz – conference calls that sound as natural as being there
Polycom's patented Acoustic Clarity Technology – delivering the best conference phone experience with no compromises
Integrated PoE with optional AC power adapter
Poly's Trio 8500 is popular for a reason! This device brings the renowned Polycom conference call efficiency and brings it to the midsize conference room in a compact size that does not sacrifice quality.
Key Features:
5-inch color LCD (720 x 1280 pixel)
On-screen virtual keyboard
3 cardioid microphones
14ft/4.3m microphone pickup range
Polycom® HD Voice™
Check out Poly's VVX 250, a robust color IP phone for small offices and cubicle workers! The VVX 250 brings all of the features of the new model for less of the price. It is one of the most popular like-new products at VoIP Supply.
Key Features:
2.8" color LCD screen (320x 240-pixel resolution)
4 line keys
4 soft keys
In-call keys: call transfer and hold
Poly's VVX 350 is a great option for small and medium-sized businesses. This 6-line mid-level IP phone provides high voice quality, a color display, and features Poly's Acoustic Fence Technology that improves voice clarity.
Key Features:
Improve call quality with the industry's best audio
Access common phone features quickly
Deploy easily for small to medium sized businesses
The Polycom VVX 450 is a 12-line high-end IP phone with advanced enterprise features that any business can benefit from. This phone comes with a clear 4.3'' color display and features Poly's Acoustic Fence Technology just like other VVX Series phones.
Key Features:
12-line high-end IP phone
Poly's HD Voice
Poly's Acoustic Fence Technology
The Poly VVX 411 is a 12-line HD Voice business media phone with a 3.5″ color LCD display and dual Gigabit RJ45 ports. Designed for knowledge workers and office staff, the VVX 411 has an intuitive larger color display and easily integrates with third-party UC and productivity applications.
Key Features:
12-Line appearances
Polycom HD Voice
3.5″ (320×240) Backlit Color LCD
Dual Gigabit RJ45 Ports
RJ9 headset port
The VVX 501 is designed for a broad range of environments from small and medium businesses to large enterprises. The VVX 501 business media phone improves productivity, by complimenting the workplace applications on the user's computer.
Key Features:
Gesture-based, multitouch-capable, capacitive touchscreen
3.5-in TFT LCD display at QVGA (320×240 pixel) resolution, 4:3 aspect ratio
Streaming media video playback
Screensaver and digital picture frame mode
On-screen virtual keyboard