Who Are the Ideal Users of the Algo IP Paging and Alerting Solutions?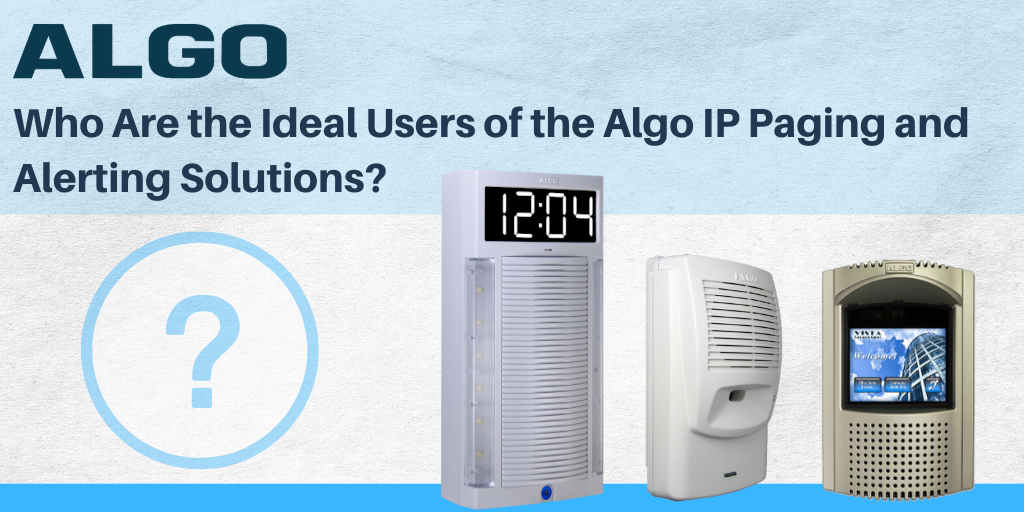 Algo's IP paging and alerting solutions are designed to be used in a variety of verticals, including education, healthcare, manufacturing, transportation, and more!
During our recent webinar with Algo, Scott talked about how each of these industries can take advantage of Algo's solutions to secure their facilities and/or communicate effectively . He also addressed some complicated set-ups like multiple networked amplifiers with Poly's VVX phones, Algo's 8373 and 8186 speakers (see below):
If you'd like to see some real use cases, download our webinar slides here! In the presentation, Scott showcased a few common applications such as:
Scheduled announcements
Emergency notification – ring an extension
Emergency notification – push a button
Emergency notification – 8138 strobe light
Our webinar recording is coming up! We will share out as soon as it's ready! Meanwhile, check out the Q&A session below to get more information:
Algo IP Paging Webinar Q&A
Q: Can the video be streamed to a VMS or NVR? (Referring to the Algo8306 SIP Multimedia Intercom)
A: No, this has been done before but this is not currently supported.
Q: What product would I use as a ring alert for my Polycom (Poly) phones?
A: If you wanted to put a speaker in a ring group that could require more licensing but we do have a product the Algo 2506 Ring Detector it's a small cord that has an RJ connection on it and that would connect to the headset jack of the VVX phone. Then there are 2 terminal screws you can wire to any of the Algo 818x speakers or strobes and it will trigger that ring event. By doing so will play an audio or visual alert. You can put multiple units on the network then use multicast to broadcast that event.

Have some questions? Contact one of our VoIP experts today at 1-800-398-8647!