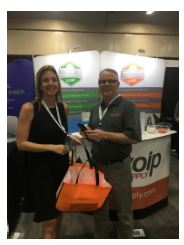 "Channel Partners Conference in Las Vegas early this month was a success for us!" Said Don Stefanie, Channel Manager at VoIP Supply.
My team and I had a great time meeting a lot of potential VoIP Service Providers and getting to know what area(s) they are looking to improve or issues they are trying to find a solution for.
One overriding message I heard from multiple Service Providers was that while apps and softphones are part of their offering, they still have an ongoing need for hardware but want to avoid handling it themselves.
Why? The top reasons that were brought up were that it's time-consuming, they have to manage and maintain high inventory levels and costs, and the lack of staff to handle their …