[Comparison Guide] Poly's CCX IP Phones are Certified with Metaswitch, Microsoft Teams, and Zoom
Great news! Poly's CCX IP phones are now certified on Metaswitch! What does this mean? This means that all Poly service provider partners using a Metaswitch platform can now begin deploying the CCX IP phones as part of their overall solution.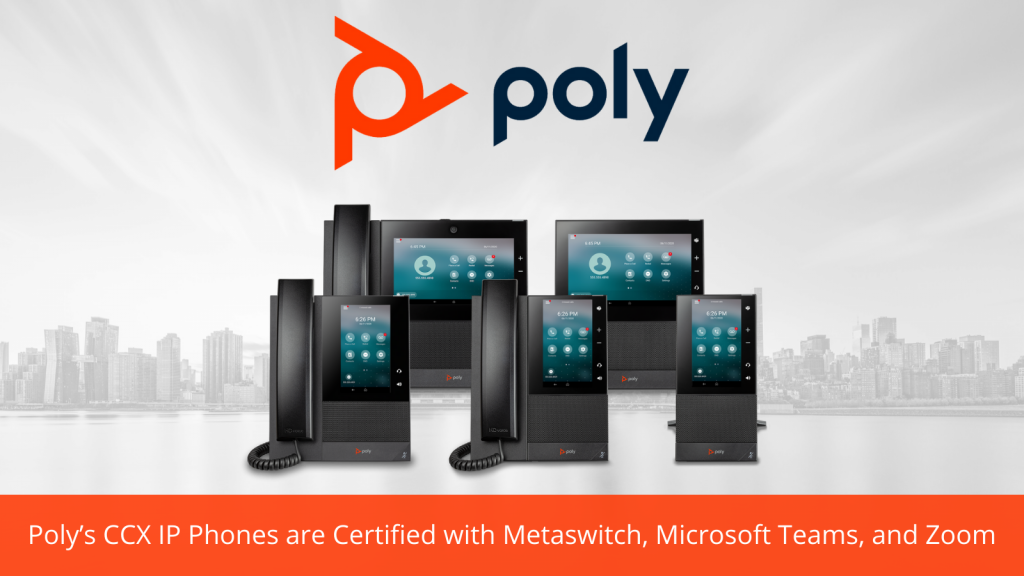 That's not all! The CCX Series is also certified with Microsoft Teams and Zoom. Check out these specific models that work with each platform:
Poly CCX & Microsoft Teams
Poly's Microsoft Teams certified phones include the CCX400, CCX500, and CCX600.
Download the Teams edition comparison sheet here.
Poly CCX & Zoom Phone
Poly's Zoom compatible phones include the CCX400, CCX500, CCX600 and CCX700.
Download the Open SIP edition comparison sheet here.
About Poly CCX Phones
Poly's CCX Series are simple, intuitive and powerful IP phones designed for the way you work. Touch screen, Exclusive Acoustic Fence feature and HD voice are just a few of the key features. Users will also enjoy the world-class handsfree speakerphone with advanced NoiseBlock technology. Check out some of the essential features:
Headset or handset—your choice
Color touchscreen operation
Hear every nuance with award-winning Poly audio technology
Native Microsoft Teams and Open SIP models
Give our VoIP experts a call at 1-800-398-8647 or visit our web pages to learn more!